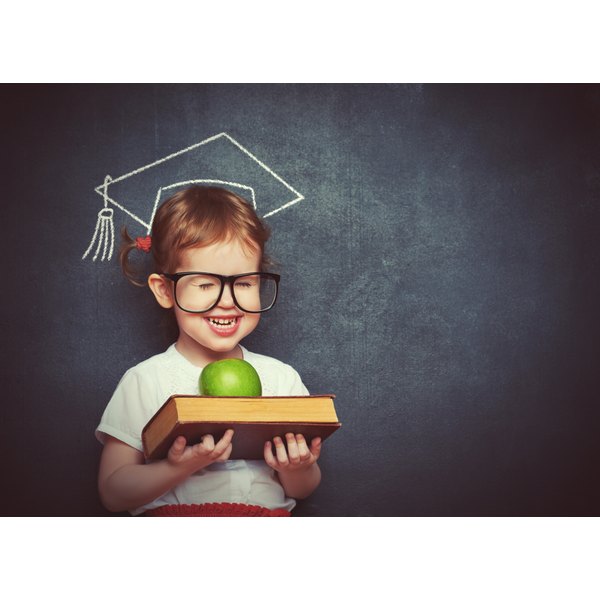 Teachers, parents and children can find a wide assortment of online printable food and nutrition activities, coloring pages and worksheets. A national focus on childhood obesity is raising awareness of deficits in children's nutrition and emphasizing the need to prepare natural, balanced meals at home and school. Teaching children through fun activities may encourage them to eat healthier snacks and meals. Some websites offer food and nutrition printouts free of charge, but others require you to pay a membership fee in order to have access to every printable on the site.
Nourish Interactive
Nourish Interactive, a 2009 Parents' Choice Approval award winner, is a well-organized nutrition, information-rich website for children, parents and teachers. It features hundreds of free educational and fun printables about food and nutrition. These worksheets are available in English and Spanish and are designed for specific elementary school grades, learning levels and age groups. You can print out tip sheets on family nutrition and kids' coloring pages with images related to food and nutrition. Game and puzzle sheets, such as crossword puzzles, matching games and word searches, are also available. Topics include food groups, fruits and vegetables, food safety and farm to table. Worksheets focusing on nutrition words and food vocabulary help children to learn word definitions, increase vocabulary and become familiar with facts about healthy foods.
Abcteach
The website, Abcteach, is an educational site that offers printable materials for teachers and parents to print out for the children in their lives. Some of the food and nutrition printables are a colorful bingo game focused on fruits and vegetables, word search puzzles and acrostics and coloring sheets with pictures of different healthy foods. Also available are worksheets about the food pyramid, favorite food lists and food fact or fiction for older children. A retired schoolteacher who wanted to share her knowledge and materials with other educators started Abcteach in 2000. It now offers more than 5,000 free printable documents for children in preschool through eighth grade.
Enchanted Learning
The University of Buffalo's Assistive Technology Training Online Project includes Enchanted Learning as one of the recommended websites for educators. Enchanted Learning produces printable worksheets, lessons, coloring pages and games, all designed to stimulate the imaginations of elementary school students, while focusing on learning and creativity. Food and nutrition printouts include food picture dictionaries for six different languages, plus word games and coloring sheets about individual foods, food groups, ingredients and healthy menu planning.
For full access to all of Enchanted Learning's materials, you need to become a site member, but if you do not want to pay a fee, you can find many free printables on this website. Unfortunately, free printouts are not listed separately, so you have to do a little searching. Choose the age group and topic of interest and click through the possibilities to find the activities you think your children or students will find interesting.
Family Education Network
The Family Education Network offers thousands of printable activities, games, coloring pages and skill-building worksheets that will teach, stimulate and entertain children as they learn about many important topics, including food and nutrition. Family Education's food-related printouts are created for children of different ages, grades and levels of understanding. There are over 100 different food and nutrition printables, including "Root Food," an activity that helps children learn to identify edible parts of plants; "Healthy Food Choices," a worksheet about food groups; and a "Healthy Vegetables and Fruits Quiz."