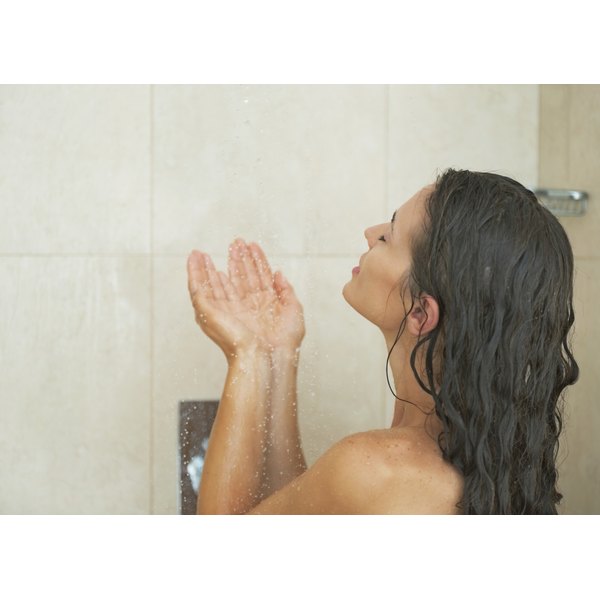 Your thyroid gland, just below your Adam's apple, produces hormones that control metabolism, growth and development. Hypothyroidism is caused by abnormally low levels of thyroid hormones in your bloodstream and tissues. Because hypothyroidism affects every cell in your body, its signs and symptoms are widespread, and, according to "The Merck Manual of Diagnosis and Therapy," they are often subtle.
Skin Changes in Hypothyroidism
According to the "Journal of Endocrinological Investigation," your skin is one of the organs most likely to show the "wide range of clinical signs" associated with hypothyroidism. Thickening and drying of the skin, particularly over the elbows and knees, is common. So, too, is some degree of hair loss. Accumulation of carotene, a yellow-orange pigment, can cause discoloration of your palms and soles. Acne, especially premenstrual acne, can worsen in hypothyroidism, but a 2009 review in "European Journal of Internal Medicine" reports that acne is not necessarily more common among people with hypothyroidism.
Lipid Disorders in Hypothyroidism
Hypothyroidism can cause undesirable changes in your lipid levels. A 2003 commentary in "The Journal of Clinical Endocrinology and Metabolism" says that levels of total and LDL cholesterol are elevated in patients with hypothyroidism, which increases your risk of heart disease. Furthermore, HDL, which helps to protect you from cardiovascular disease, is lower than normal in many hypothyroid patients.
Subclinical vs Overt Hypothyroidism
If you develop overt hypothyroidism, you typically have symptoms that prompt you to seek medical attention. Such symptoms include cold intolerance, weight gain, constipation, hair loss, changes in menstrual flow, facial swelling or even mental problems, such as forgetfulness or personality changes. Laboratory tests will usually reveal your problem, and treatment with thyroid hormone soon alleviates your symptoms. However, subclinical hypothyroidism, which occurs in up to 15 percent of elderly women and an unknown number of younger people, usually causes subtle symptoms that are often confused with other disorders or no symptoms at all. Undetected subclinical hypothyroidism can increase your risk for atherosclerosis, or hardening of the arteries, the hallmark of cardiovascular disease.
Hypothyroidism and Heart Disease
The association between overt hypothyroidism and cardiovascular disease has been recognized by scientists and physicians for years. Treating hypothyroidism with thyroid hormone typically ameliorates the undesirable changes in total, LDL and HDL cholesterol levels and helps to prevent atherosclerosis. As demonstrated by the Rotterdam Study in 2000, subclinical hypothyroidism is also a strong risk factor for atherosclerosis and heart attack, especially among women over age 55.
Considerations
If you have acne or other skin changes that cannot be explained by another condition or that are not responding to treatment, or if you have lipid abnormalities, such as a low HDL level, ask your doctor to check your thyroid function. Subclinical hypothyroidism is a serious disorder that is often overlooked, but it is easily treated. Administration of thyroid hormone reverses the signs and symptoms of this disorder.