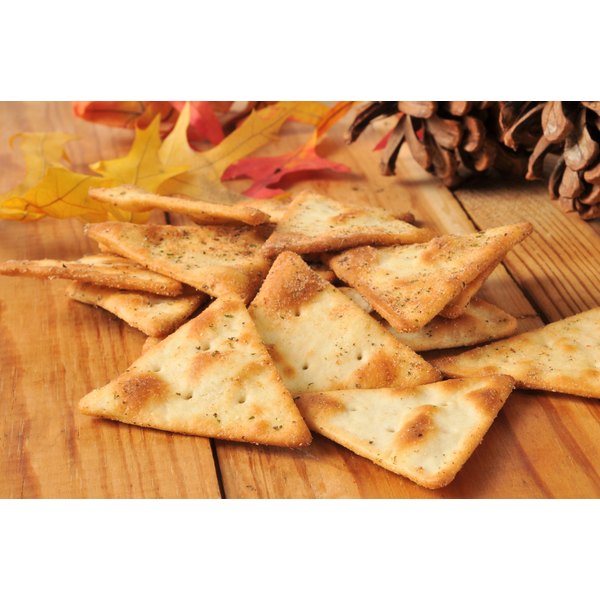 Snacks are essential for keeping you going between meals. Incorporating pita chips into your them will provide you with fiber and some vitamins and minerals, as well. You can find many ways to eat pita chips, and keeping a few recipes on hand will inspire you to include this snack choice as part of a healthy diet.
Pita Chip Platter
You can use whole pita bread to make nutritious pita chips with many different tastes and flavors that also supply several grams of fiber. Sue Spitler notes in her book, "1,001 Delicious Recipes for People with Diabetes," that making pita chips is simple. Cut whole pita breads in wedges, brush with olive oil or canola oil and sprinkle with herbs or spices. Bake at 425 degrees Fahrenheit until crispy and golden. Make a pita chip platter by creating several different flavors. Sprinkle some with cinnamon, others with garlic powder and rosemary and still others with pumpkin pie spice. Serve with plain low-fat yogurt for dipping.
Pita Chip Sandwiches
You can use whole wheat pita chips as a high-fiber alternative to bread to make nutritious and snack-sized sandwiches. Spread peanut butter on one pita chip, top with banana slices and add a second pita chip on top for a high-protein snack. Fill two pita chips with low-fat vanilla yogurt and fresh blueberries for calcium, or fill with hummus and red bell pepper strips to obtain vitamin C. Guacamole with tomatoes or salsa is another nutritious option that supplies potassium and vitamin C.
Pita Chip Nachos
Pita chips can serve as a more nutritious base for nachos than traditional tortilla chips. They will add more fiber to your snack, and you can customize them by incorporating your favorite ingredients. Pinto beans or black beans will add more fiber and some protein to your snack, and low-fat cheese will increase the calcium content. Tomatoes or salsa are a good way to add vitamin C. Start with three or four pita chips to keep the portion snack-sized.
Pita Chips and Mango Salsa
Adding fruit to your diet will increase your intake of vitamin C, vitamin A and potassium. The American Heart Association suggests serving pita chips with mango salsa as a healthy snack because fruit is naturally sweet and may help curb your cravings for sugary foods. Combine chopped mango with red bell pepper, red onion, cilantro, jalapeno, lime zest and lime juice. Add a few black beans for some protein. Serve with pita chips dusted with garlic powder or cayenne pepper.