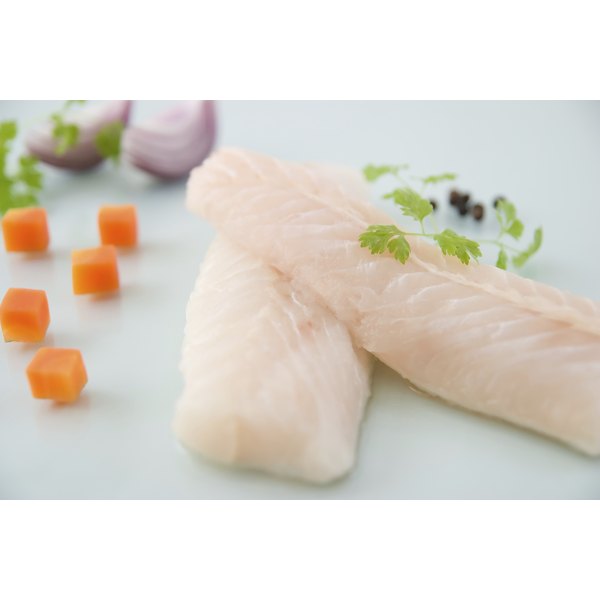 Blue hake, a fish formally known as Antimora rostrata, is found along the east coast of the United States, particularly near New England and North Carolina. This fish is low in fat and rich in protein. You should note that cooking or frying blue hake in butter or oil significantly alters its nutritional values.
Tip
One serving of Blue Hake is reported to have 150 Calories, according to the nutrition facts provided by livestrong.com.
Calories
A 4 oz. blue hake fillet contains 80 calories -- only 4 percent of the daily recommended intake of 2,000 calories. Blue hake is lower in calories than chicken breast, which provides 130 calories in one serving.
Protein Content
Protein contributes 90 percent of the calories in blue hake. A 4 oz. blue hake fillet offers 18 g of protein. According to the Harvard School of Public Health, consuming 20 5o 25 percent of your diet from protein may be beneficial for your overall health.
Fat Content
Each 4 oz. blue hake fillet provides only .5 g of fat. None of this fat comes from saturated or trans fat. Although being low in fat makes blue hake low in calories, it is not entirely advantageous. Fat helps you feel full and assists your body in absorbing certain nutrients.
Carbohydrate Content
Blue hake does not contain any carbohydrates, which may make it appropriate for a low carbohydrate diet. Although carbohydrates provide energy and other nutritional benefits, low carbohydrate diets may aid in weight loss; research reported in the July 2008 issue of the "New England Journal of Medicine" found low carbohydrate diets more effective than low-fat diets.