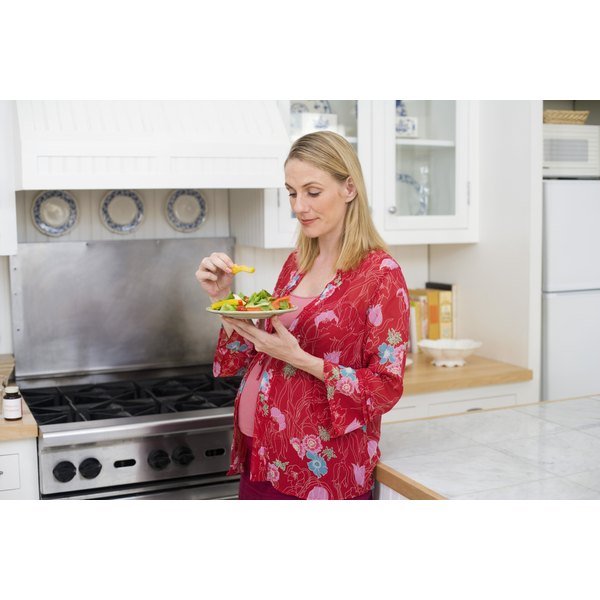 Pregnant women need between 75 and 100 grams of protein per day to promote fetal growth and brain development. Protein also contributes to the growth of maternal breast and uterine tissue, according to the American Pregnancy Association. To meet your protein requirement, add protein-rich foods to meals and snacks. Discuss diet and nutrition with your obstetrician to ensure that you and your baby are getting everything you need for a healthy pregnancy.
Breakfast Ideas
Many traditional breakfast foods are naturally high in protein. One egg has roughly 6 grams of protein. Whip up an omelet with whole eggs or an egg substitute, and add plenty of diced vegetables for additional vitamins and minerals. You can make a low-carb, high-protein pancake batter by whipping together mashed banana and an egg -- no flour needed. Another great option, particularly if you are struggling with morning sickness, is a smoothie. Blend plain, low-fat yogurt or cottage cheese with frozen fruit for a light, but protein-dense, breakfast drink.
Lunch Ideas
Making a protein-rich lunch can be a little more challenging since pregnant women need to avoid deli meat. To make your lunch preparation easier, bake or boil several chicken breasts and keep them in the refrigerator. Mix diced chicken with plain yogurt and celery for an easy, protein-rich sandwich filling. Another option is to top a fresh greens salad with chicken and beans. Garbanzo, kidney and black beans are all good sources of protein and dietary fiber -- another important nutrient for pregnancy. Drink a glass of milk to add 8 more grams of protein to your meal and calcium for the baby's bone and tooth development.
Dinner Ideas
If you are a meat-and-potatoes type, it will be easy to get protein at dinner. Be choosy about your meat, though. Red meat, such as steak, roast beef and hamburgers, is very high in fat, which isn't good for you or the baby. Limit yourself to two, 3-ounce servings of lean, red meat per week. The rest of the time, enjoy seafood or chicken or turkey with the fat trimmed away. Avoid fish with high levels of mercury including shark, swordfish, king mackerel, and tilefish, as mercury may cause brain defects in your unborn child
Snack Ideas
Eating small, healthy snacks throughout the day is a good way to keep your energy levels up, and to stave off morning sickness. Keep your refrigerator stocked with protein-rich snacks such as nuts, yogurt, low-fat cheese and nut butter so you won't be tempted by ice cream and cookies.