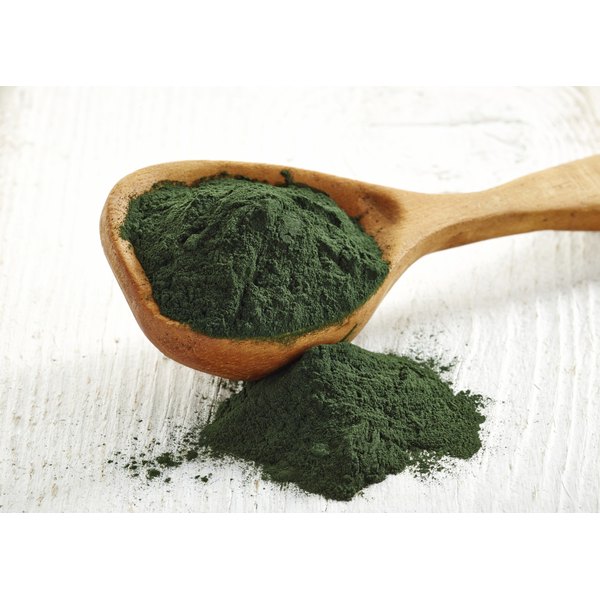 Spirulina, a type of blue-green alga, was first used as a food source by ancient Aztecs. In modern times, it earned widespread popularity as a dietary supplement when NASA began to include it in the space diets of astronauts. Spirulina contains more than 50 percent protein, and is a rich source of essential fatty acids, vitamins, minerals and antioxidants. Recent research has revealed a number of health benefits and some risks of spirulina.
Antiviral
Spirulina's high concentration of nutrients that influence metabolism and immune function make it a particularly healthy food, according to a study conducted at the J.C. Bose Institute of Life Sciences, Bundelkhand University, Jhansi, India. Spirulina improves the activity of white blood cells, stimulates antibodies and increases the population of natural killer cells, say the authors of the study, which was published in the October 2005 "Current Pharmaceutical Biotechnology." Herpes, influenza and HIV virus have all been inhibited by spirulina. Blood sugar and cholesterol improve with spirulina supplementation as well, and its antioxidant properties make it protective for the liver and kidneys.
Liver Protective
Spirulina has remarkable liver-protective and antioxidant effects, according to a joint Indian and Malaysian study published in the December 2008 "International Journal of Integrative Biology." In the study, laboratory mice with acetaminophen poisoning were given 800mg per kg body weight of Spirulina fusiformis. The researchers noted decreases in markers of stress, including elevated liver enzymes, damaged lipid molecules and tumor necrosis factor -- a sign of inflammation -- after the spirulina treatment. Also, spirulina restored levels of antioxidants depleted by acetaminophen.
Antihistamine
Inhibiting the release of the pro-inflammatory molecule histamine is the key to spirulina's immune boosting, anticancer, antiviral and antiallergic effects, according to a U.K. study published in the September 2008 "Evidence Based Complementary and Alternative Medicine." Studies using spirulina have shown the alga to improve several symptoms according to the authors.
Risks
While spirulina has been used as a source of protein for centuries, it carries with it certain health risks, according to a U.S. study conducted at the University of Pittsburgh. Traces of neurotoxins have been detected in samples of commercially prepared spirulina, report the authors of the study, which was published in the 2008 "Advances in Experimental Medicine and Biology."
Another study, conducted by the Department of Internal Medicine, University Hospital of Heraklion, Crete, Greece, and published in the June 2008 "Phytomedicine," reported a case of rhabdomyolysis -- a life-threatening condition in which muscle tissue breaks down -- after ingestion of a dietary spirulina supplement. In rhabdomyolysis, muscle cell contents travel through the bloodstream and may cause kidney failure.