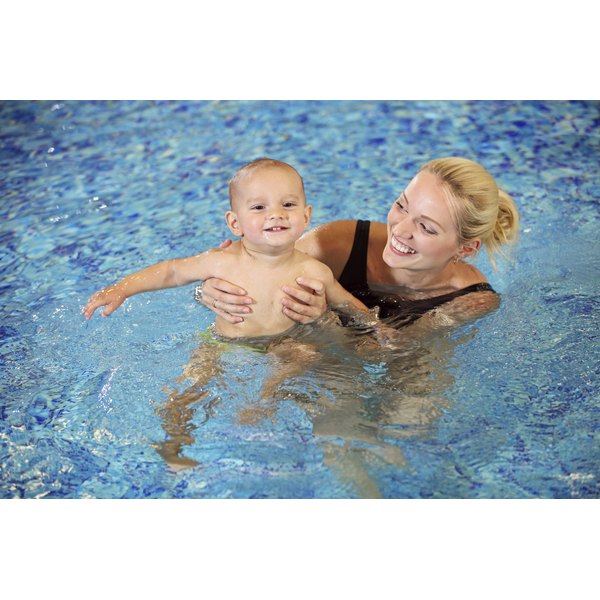 With individual facilities sprinkled throughout the cities and towns of the United States, the YMCA provides readily available toddler swimming lessons. Toddler swimming lessons typically don't increase your child's chances of drowning and in many cases they may actually reduce your toddler's risk of drowning, reports the American Academy of Pediatrics in the July 2010 issue of "Pediatrics" magazine. Not every child should participate in toddler swimming lessons; know the facts about YMCA swimming instruction before you enroll your child.
Background
Originally founded in 1844, the Young Men's Christian Association is a worldwide organization that promotes healthy minds, bodies and spirits by providing people of all ages with an assortment of services, including swimming instruction. YMCA toddler swimming classes take place in pools within individual "Y" facilities and serve to acquaint babies with water. Although YMCA facilities also often offer infant swimming classes for babies as young as 6 months, toddler swimming classes -- often called Parent-Tot or Perch classes -- typically focus on babies between the ages of 18 and 36 months.
Features
YMCA toddler swimming classes typically occur once weekly for six to eight weeks, with each lesson lasting approximately 30 minutes. These classes generally occur with one-on-one or small-group instruction and require a parent to be in the water with each child. Instructors familiarize toddlers with water, often using play and songs to make the process more enjoyable and effective. The instructor may teach additional skills, such as floating, kicking, paddling and breath control, to help enhance the water orientation program, depending upon the maturity and skill levels of the toddlers within each class.
Considerations
Although YMCA toddler swimming classes may be helpful for some babies, not all toddlers will benefit from this instruction, so talk to your child's pediatrician before enrolling your little one in Y swimming lessons. Repeated bouts with ear infections as well as certain physical or mental disabilities could preclude swimming lessons during the toddler years. Always verify that the swimming instructor is trained in infant CPR.
Warning
Never expect swimming classes that your toddler takes at the YMCA to replace other drowning preventative measures. Don't allow your toddler in or near a swimming pool or any other body of water without an adult within arm's reach. Install a 4-foot-tall safety fence around your swimming pool and keep the gate secured whenever the pool isn't in use to help prevent your toddler from accidentally gaining entrance. Take swimming lessons yourself and consider enrolling in a CPR class so that you have the knowledge necessary to help save your toddler's life in the event that she does accidentally fall into your pool.