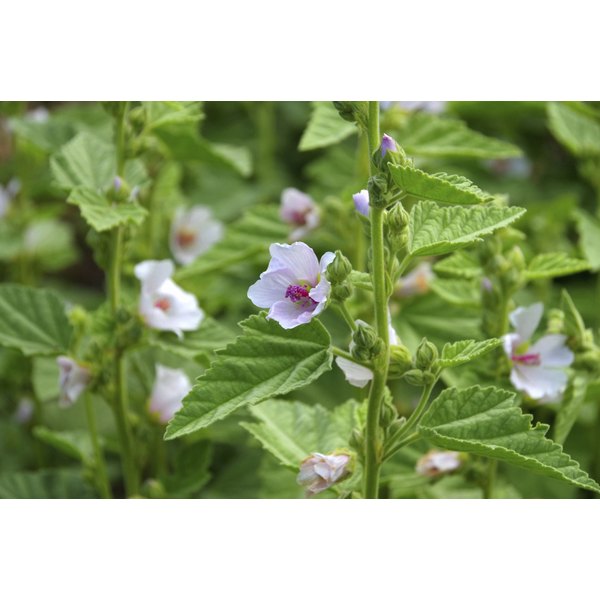 The mallows represent a large group of flowering plants also known as the Malvaceae family. Most people are familiar with common marshmallow and the confection of the same name, although the foodstuff no longer contains any of the plant material. Other plants in this family include jute, cocoa, kola nut, okra and rosemallow, also known as hibiscus. A number of mallows are edible and reputedly possess medicinal qualities. However, the health benefits of Althaea officinalis, or marshmallow, are best documented.
Demulcent Properties
A demulcent is an agent that coats and soothes irritated mucous membranes. According to the "Physicians' Desk Reference for Herbal Medicines," marshmallow contains several polysaccharide compounds collectively referred to as mucilages that adhere to soft tissue surfaces. Traditionally, oral preparations of marshmallow are used to ease sore throat, suppress cough and address gastrointestinal complaints and irritations of the urinary tract. The most common form of intake is marshmallow syrup, or "snail juice." Topically, marshmallow formulations are applied to insect bites, minor wounds and burns.
Anti-inflammatory Benefits
Marshmallow is also attributed with anti-inflammatory properties. In a review published in the Feb. 2010 issue of the "Journal of Clinical Pharmacy and Therapeutics," lead researcher Giancarlo Cravotto reported out of 1,000 plants reviewed that are associated with anti-inflammatory activity, only nine demonstrated significant clinical evidence of therapeutic effect, with marshmallow among them. In September 2010, researchers from Hamdard University in India identified several new and known compounds found in marshmallow seeds, including beta-sitosterol, in "Natural Product Research." According to drugs.com, studies have confirmed that beta-sitosterol exerts anti-inflammatory effects and is currently being investigated for a potential role in the prevention and treatment of mild-to-moderate benign prostatic hyperplasia, or BPH.
Enhanced Immunity
Drugs.com also states that beta-sitosterol increases immunity. Specifically, this plant sterol appears to boost the ability of natural "killer" white blood cells to target and destroy pathogens. Studies have also shown that beta-sitosterol increases the production of lymphocytes, another class of specialized white blood cells that play a significant role in immune function.
Cell Renewal
Alexandra Deters and fellow researchers from the Institute for Pharmaceutical Biology and Phytochemistry in Germany found that liquid extracts produced from marshmallow root not only soothe irritated mucous membranes but also stimulate cell regeneration. This effect was observed in human epithelium, the tissue that serves as membrane for all structures in the body. Specifically, the scientists reported in the January 8, 2010 issue of the "Journal of Ethnopharmacology" that marshmallow root compounds stimulate the turnover of epithelial KB cells without promoting excess proliferation, which might otherwise trigger cancerous growths.