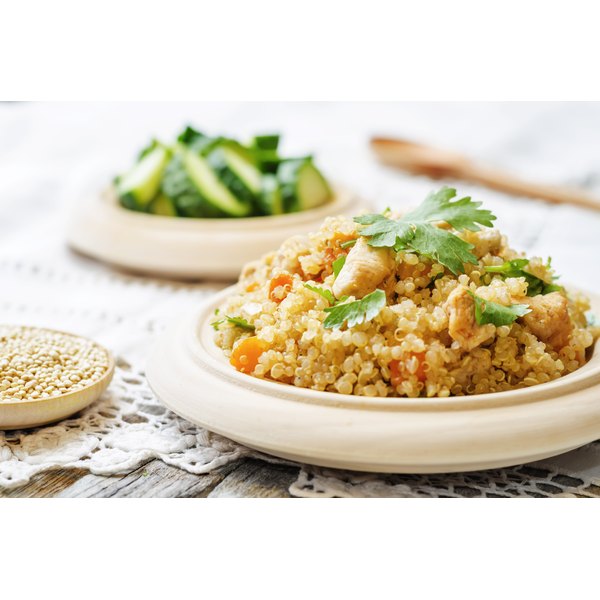 Quinoa is used as a grain, but it is actually the seed of a plant that is related to Swiss chard and beets. Quinoa is a source of protein, fiber and many vitamins and minerals. Quinoa contains more fat than other grains, but it is still a healthy addition to any diet.
Fat Content
Quinoa comes in multiple colors, including ivory, red and black. All these varieties provide the same 3.55 grams of fat per cooked cup. None of the fat in quinoa is the unhealthy unsaturated variety.
Calories From Fat
Approximately 32 of the total 222 calories in 1 cup of quinoa comes from fat. This amounts to 14.4 percent of the total calories. Compare this to brown rice, which is 8 percent fat or whole-wheat spaghetti, which is 5 percent fat.
Considerations
Although quinoa is higher in fat than other grains, it is not a high-fat food. Between 25 and 35 percent of your daily calories should come from fat, advises the American Heart Association. If you follow a 2,000-calorie diet, this means that you should consume between 55 and 78 grams of fat daily -- and 1 cup of quinoa makes up just 5 to 7 percent of your daily fat needs. In that 1-cup serving, you also get other important nutrients including 5 grams of fiber, 78 micrograms of folate, 118 milligrams of magnesium, 281 milligrams of phosphorus and 318 milligrams of potassium.
Uses
You can find quinoa in most major supermarkets alongside rice and other grains. Quinoa cooks like rice in about 15 to 20 minutes. Simmer it in water or broth without any extra oil or butter to keep the fat content down. You can make quinoa into a pilaf by adding chopped onion, garlic and peas. For a healthy quinoa salad, include black beans with your quinoa, greens and fresh vegetables, dressing it with lime juice and a small amount of olive oil, which adds 4 grams of fat per teaspoon.