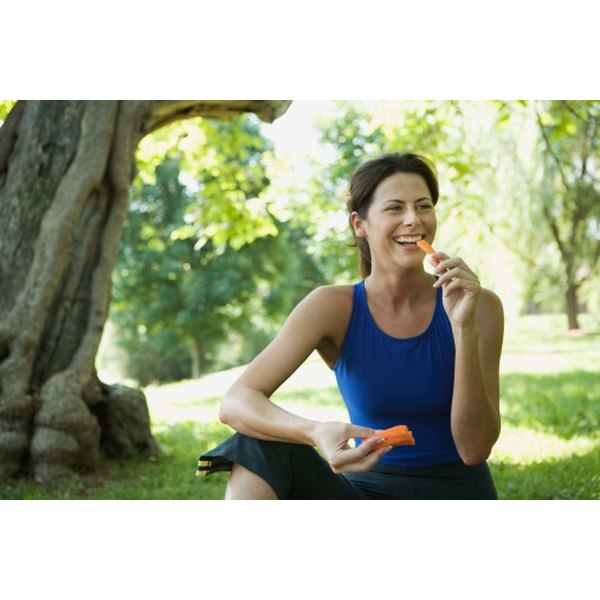 A vertical sleeve gastrectomy, a type of weight-loss surgery that reduces your stomach size, can help you lose weight if you are obese. Your doctor may recommend the surgery if your body mass index is 40 or higher or you are overweight by 100 lbs. or more. After surgery, your stomach consists of a long, thin pouch that can only hold small amounts of food. Following your surgeon's post-operative instructions helps ensure that you lose weight steadily and safely.
Follow your doctor's guidelines regarding recommended food amounts for each meal. Shortly after surgery, your pouch will only hold about ½ cup of food. With time, your pouch may stretch to hold up to one cup of food. Eating more than recommended amounts can cause your stomach pouch to stretch too much, allowing you to overeat.

Limit yourself to three meals per day. Although you will initially eat six to eight small meals per day as you adjust to the results of bariatric surgery, by six to nine months, you should be able to reduce the number of meals that you eat. Continuing to eat constantly throughout the day may result in weight gain or may prevent you from losing weight.

Chew food slowly during meals. Eating too fast can cause dumping syndrome. If you vomit or have diarrhea, you may feel hungry again and may be more likely to overeat.

Eat lean meats and food high in protein. These foods will help you lose weight and can help heal your wounds, regrow muscle and skin, and prevent hair loss, according to MayoClinic.com.

Limit or avoid sweets, soda and fried and fatty foods. Not only will these foods increase your caloric intake, they may also cause dumping syndrome.

Use a notebook or your computer to create a food journal. Write the types and amounts of food you eat each day in your journal. Keeping a food journal can help you stick to your diet and identify any foods that are causing weight gain or dumping syndrome.

Exercise every day for at least 30 minutes. Choose an aerobic form of exercise, such as bicycling, aerobic dance, swimming or walking to help prevent weight gain.

Tip

Pay attention to the signs from your body. When you feel full, stop eating, even if there is still food remaining on your plate.

Be patient and don't expect to lose all of your extra pounds during the first months following surgery. Medline Plus reports that it can take two to three years to achieve your final weight loss after having a vertical sleeve gastrectomy.