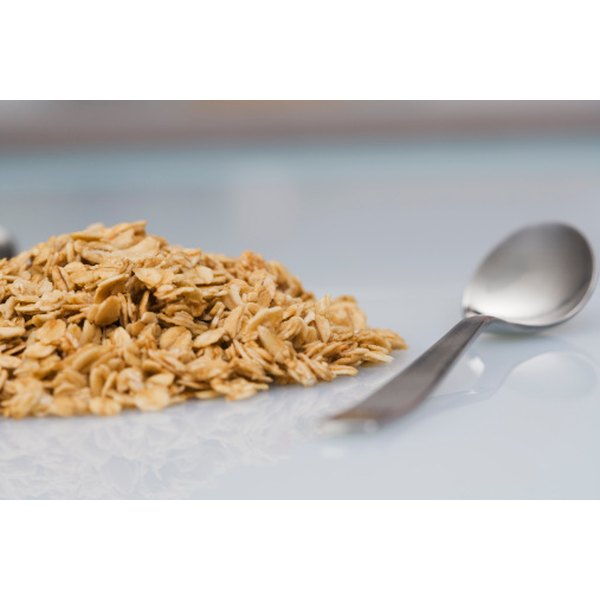 Granola is a combination of rolled oats, honey and sometimes nuts or dried fruit. The amount of calories and fat in granola will depend on its components. Granola with nuts will have a higher caloric and fat content then granola without nuts. Granola can be a healthy snack or enjoyed as a meal. You can make your own granola or purchase it at a local grocery store.
Granola Bars
There are a variety of recipes to make granola bars; this S'More granola bar recipe comes from the website, The Joy of Baking. Preheat oven to 350 degrees. In a small pan over medium heat, melt 6 tbsp of unsalted butter, 1/4 cup light brown sugar and 1/3 plus 1 tbsp of maple syrup. Once the sugar is melted, transfer the mixture to a large bowl. Combine 1/2 cup of flour, 2 cups of rolled oats, 1 cup of crushed graham crackers, 1/4 cup of coconut, 1/2 tsp of salt and 1/4 tsp of cinnamon. Place half of the mixture in a 9x9 pan and let cool for five minutes. Then sprinkle 1 cup of semi sweet chocolate chips and 1 1/2 cups of mini marshmallows over the mixture. Top with the remaining granola mixture and bake for 15 minutes.
Granola as Cereal
You can make your own cereal granola. The Amateur Gourmet's recipe uses rolled outs, cinnamon, honey, almonds and hazelnuts. Preheat the oven to 325 degrees Fahrenheit and line a baking sheet with parchment paper. Combine 2 cups of rolled oats, 1 tsp of cinnamon and 1 tsp of salt in a large bowl. In a smaller bowl, combine 2 tbsp plus 1 tsp of vegetable oil, 1/4 cup of honey, 1/4 cup of light brown sugar and 1 tsp of vanilla extract. Pour the honey mixture over the oats and mix until all oats are coated. Bake the mixture on a baking sheet for 10 minutes. Sprinkle 1/3 cup almonds and 1/3 cups of hazelnuts and bake for another 10 minutes. Cool the granola and then sprinkle 1/3 cup raisins and 1/3 cup of dried cherries on the granola. Store it in an airtight container.
Granola in Fruit Parfait
Granola can also be used in a fruit parfait. Use a small juice glass or small dish and place the desired about of granola at the bottom of the glass or dish. Next, take any flavor of yogurt and spoon it over the granola. Then cut up your favorite fruits and place them on top of the yogurt. Fruit can include blueberries, peaches, strawberries, bananas or grapes. You can continue to layer the ingredients or enjoy as is.