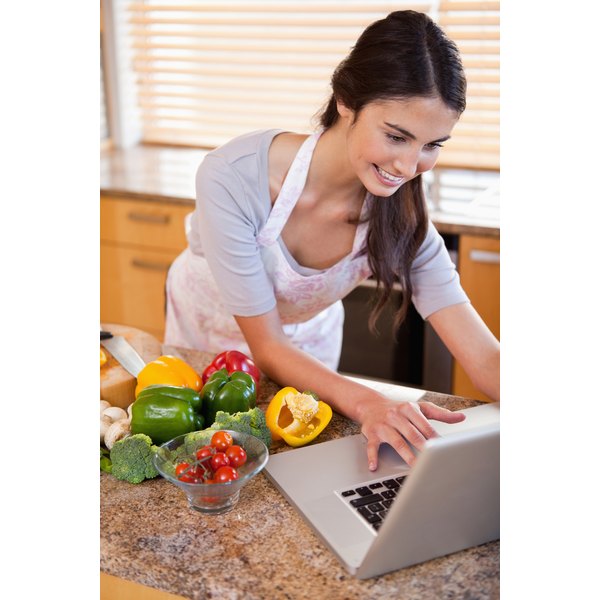 Eating low-carb doesn't mean you have to spend hours in the kitchen. In fact, many low-carb meals are quick and easy to prepare. Making a weekly menu helps eliminate guesswork at mealtimes and streamlines your time spent in the kitchen.
Build a Better Breakfast
Planning ahead is a winning approach to a lower-carb, quick and healthy breakfast. Boil and peel a dozen eggs on Sunday night to make ready-to-eat breakfasts for the week ahead. Two boiled eggs contain only 1 gram of carbohydrate; add a few strawberries, and you still come in below 10 grams in this quick breakfast.
Having breakfast ready to heat and serve can save you a lot of time in the morning. Over a weekend, prepare a batch of low-carb blueberry muffins using coconut or almond flour, and then freeze them. In the morning, just grab a muffin, microwave it for a few seconds, pour coffee in your travel mug and go. One homemade, grain-free blueberry muffin recipe contains 8 grams of net carbs per muffin.
To make a low-carb breakfast smoothie, reach for ingredients like spinach, celery, avocado, plain and unsweetened coconut milk, and fresh or frozen red raspberries. A smoothie with 1/2 cup of baby spinach, two celery stalks, 1/2 cup of fresh red raspberries, 1 cup of coconut milk beverage and half an avocado contains just 8 net-carb grams. Keep in mind that carb contents of different fruits vary dramatically. For example, blending 1/2 cup of fresh red raspberries adds only 3 grams of net carbs to your smoothie, while the same amount of blueberries adds 9 grams. Try placing smoothie ingredients -- minus any frozen fruit -- in your blender the night before, and then pop it in the fridge. The next morning, you'll be ready to blend and head out the door with your breakfast in hand.
Fast Low-Carb Lunch Ideas
Prepping and packing your lunch -- for work, school, on the road, wherever the day takes you -- could be the key to an easy and healthy midday meal throughout the week. Canned tuna contains zero carbohydrates; add some smashed avocado or a small dollop of mayonnaise with a generous squeeze of lemon juice for a zesty and light tuna salad. Pair with raw veggies and a handful of nuts to complete your low-carb lunch. Or, load up on nonstarchy vegetables in a mixed green salad. For example, a 1/2-cup serving of romaine lettuce, spinach, cucumbers, red peppers, cauliflower and broccoli thrown together contains under 8 grams of net carbs total. Top your salad with a protein, such as grilled chicken or steak, and dress it with olive oil and red wine vinegar without adding additional carbs.
To stretch your grocery budget, plan on using leftover proteins from dinner to create your tasty lunch for the next day. Roasted chicken or baked chicken breasts from dinner can become tomorrow's chicken salad lettuce wraps for lunch. As for those boiled eggs you prepared for breakfast last Sunday, dice a couple and mix in 2 tablespoons of light sour cream, then throw in a tablespoon of chopped fresh chives or dill weed with a dash of salt for flavor -- this quick egg salad contains less than 4 grams of net carbs.
Light and Healthy Dinners
Low-carb dinners should include protein, healthy fat and nonstarchy vegetables. Yes, hamburgers are classic and quick-to-prepare American fare – but skip the bun if you've adopted a low-carb nutrition regimen. Instead, wrap a burger with a sturdy lettuce leaf or stack it between raw red pepper halves or mushroom caps. Try ground turkey or chicken for an even lighter option.
One-dish meals are an easy solution for a weeknight dinner because these recipes share protein and veggie cooking times within one space. For example, place a few chicken breast tenderloins, sliced brussels sprouts, diced zucchini and mushrooms together in a large piece of bakeware. Drizzle with olive oil and sprinkle with herbs before popping it into a preheated oven. Within 30 minutes, your low-carb dinner is ready. One-half cup of cooked brussels sprouts contains 4 grams of net carbs, 1/2 cup of button mushrooms adds 5 grams and zucchini has only 2 carb grams in 1/2 cup.
Low-Carb Snacking Solutions
Avoid food cravings by keeping low-carb snacks on hand throughout your day. Some low-carb snacks include hard cheeses, such as cheddar or Colby with less than 1 gram of net carbohydrate per 1-ounce serving. Olives are another portable low-carb snack; both black and green contain less than 1 carb gram per serving -- about 5 whole olives. Many types of beef jerky are carb-free, but check the labels to be sure no carb-containing fillers are added. One medium carrot contains 4 grams net carbs, while a single stalk of celery has just 1 gram. Throw any of these snacks in a baggie or portable container when on the go.
Mixed nuts are a rich source of heart-healthy fats, yet they are generally low-carb, especially compared to chips. As an example, 2 tablespoons of mixed nuts contain 2 to 3 grams of net carbohydrate, while potato chips have 15 grams of net carbs in a 1-ounce serving.