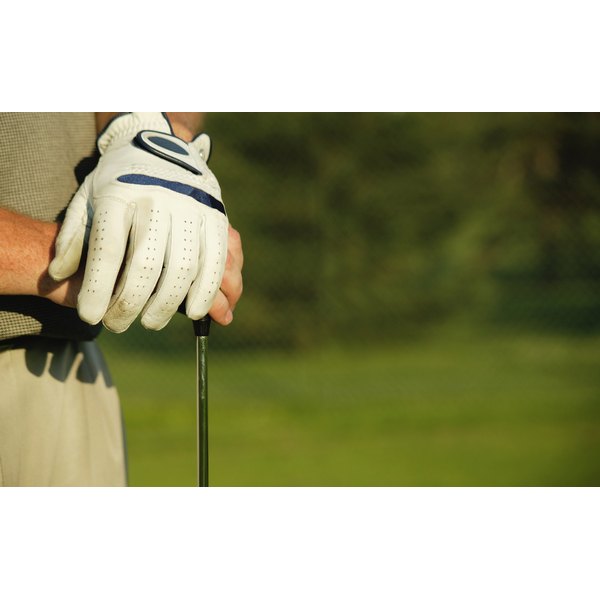 Golf irons are versatile tools that you'll use in many situations. Ideally, you'll swing your irons primarily from the fairway, but you'll also tee off with an iron on shorter holes and will often use them when you land in the rough. As a mid-handicapper you won't hit the sweet spot every time, so you'll need some reasonably forgiving irons. You may also need clubs that compensate for a moderate-to-slow swing speed. Mid-handicap players have handicap indexes of roughly 10 to 20 for men and 23 to 29 for women, according to U.S. Golf Association statistics.
Perimeter-Weighted Clubheads
Golf iron clubheads used to basically be fairly thin slabs of metal. Today, only a few of the best golfers play these types of irons, known as blades. Mid-handicappers will benefit from more forgiving perimeter-weighted clubheads. Adding weight around an iron's backside perimeter creates a cavity, which is why these irons are also known as cavity-backs. The perimeter weighting results in better distance and accuracy when you strike the ball off center.
Extra Weight on the Down-Low
If you have difficulty getting your shots into the air -- particularly when you hit the longer, less-lofted irons -- look for irons with extra weight near the clubhead's sole. The lower center of gravity makes it easier to loft the ball into the air.
Draw the Right Irons
Slicing is a common problem for mid-handicap players. In an ideal world you would take lessons, improve your swing and stop slicing the ball. In the real world, mid-handicappers can receive technological assistance by using draw-weighted irons. These iron clubheads are more heavily weighted toward the heel, allowing the toe to rotate into a proper position, square with the ball, during your downswing.
Graphite Shafts
If you're a reasonably accurate player but don't achieve much distance because of a slower swing speed, graphite shafts may be your answer. Better players typically find steel-shafted irons more consistent -- although some PGA Tour pros use graphite shafts in their irons -- but graphite's lighter weight can help produce a faster swing speed and generate more distance. Graphite shafts don't vibrate as much on impact as steel, making graphite easier on your hands, a characteristic that older mid-handicappers may particularly appreciate.
Replace Long Irons with Hybrids
If you're still using a 2-, 3- or 4-iron, consider replacing those clubs with hybrids. Hybrid clubs look more like woods than irons, with larger heads. Hybrids have slightly rounded faces to help you hit the ball straighter, plus wider soles to avoid digging into the turf if you strike the ground before you hit the ball.