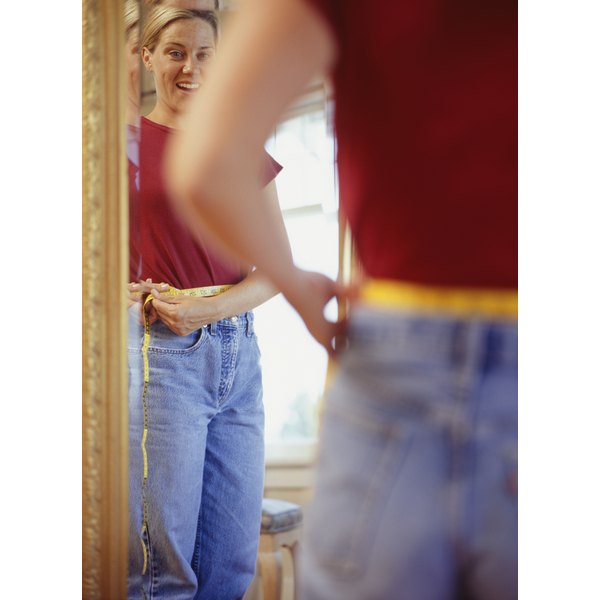 If you haven't heard all about the latest waist trimmer device, wait five minutes, another one is bound to come along. Advertised to help you lose weight while you work out, these ubiquitous, sweat-inducing wrap around compression garments are manufactured and distributed under a variety of names, but they are virtually all the same. While these sauna swaths of neoprene fabric velcroed about your mid-section may trap your perspiration and support your back, they won't result in lasting weight loss. The equipment you do need to see sustainable fat reduction is already within your reach and doesn't cost a dime.
Factory-Installed Equipment
The good news is you already come fully-equipped with everything you need to whittle your waist. You don't need any special equipment to walk or jog 30 to 60 minutes at a moderately vigorous pace most days of the week to torch calories and reduce fat all over your body, including that spare tire around your abdomen. Twice a week you can use your own body weight as resistance to perform strength-training exercises to develop the underlying muscles of your stomach area to tone and sculpt a leaner appearance. Calisthenics can be done anytime, anywhere, no gym membership required.
Your Brain and a Plan
You also come with a brain, which is all you need to create and adhere to a balanced diet. Follow a sensible, nutritious food plan like Harvard's healthy eating pyramid. It's easier to avoid 250 calories than it is to exercise them away. Eliminate sugary drinks and fat-laden fried fast foods and you can easily trim 250 to 500 calories a day from your regular diet. Those avoided calories add up. Seven days of healthier eating spares you between 1,750 and 3,500 calories a week. That is the equivalent of one-half to one pound of weight loss per week without exercising.
A Trimmer Waist and Much More
Your exercise efforts will pay off. Not only will you trim fat from all over your body, physical activity revs up your metabolism, sculpts toned muscles, improves your general health and boosts your mood. Exercise stimulates the release of your brain chemicals, neurotransmitters like serotonin and dopamine, endorphins that make you feel good while you work out and last up to two hours after you finish. Best of all, according to MayoClinic.org it doesn't matter what kind of exercise you do, yoga or a cross-country hike, you'll reap the benefits, not the least of which is a trimmer waist.
Ditch the Gizmos, Buy the Shoes
Rather than wasting money on another get-thin-quick gizmo, gadget or device, invest in a pair of good walking shoes, digital scales, body fat calipers, a measuring tape and a food and exercise diary. Set a target date 12 weeks out and circle it on the calendar. Use your diary to record your weight, body fat percentage and your arm, bust, waist, hip and calf measurements. Every day record everything you eat and your physical activity. Take your measurements and weigh yourself once a week. Research the names of reputable tailors and alteration professionals -- you'll be needing their assistance.