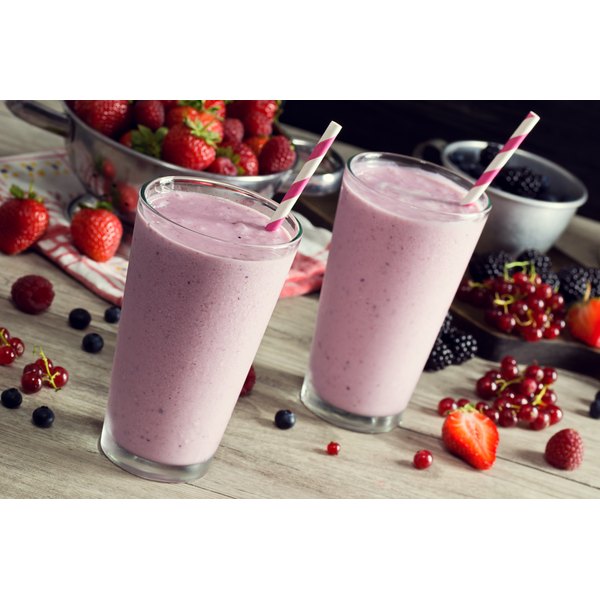 Body Fortress protein supplements are designed to increase the protein intake of a wide range of consumers, from casual exercisers to advanced body builders. Body Fortress has eight products in its line of protein supplements, including the Super Advanced Whey Protein powder. This product is available in Chocolate, Chocolate Peanut Butter, Vanilla, Strawberry and Cookies N Cream flavors. Ingredients vary slightly, depending on the flavor chosen.
Whey Protein
The Super Advanced Whey Protein powder contains 52 g of protein in each 2-scoop serving. Whey protein concentrate and whey protein isolate are the protein sources used in this product. Whey protein is derived from cow's milk. Whey protein isolate is processed from whey, with almost all of its fat and lactose removed. Whey protein concentrate has slightly less protein than whey isolate and more fat and lactose.
Recovery Ingredients
Body Fortress includes a group of ingredients in the Super Advanced Whey Protein powder called the Super Recovery Blend. This mixture includes creatine monohydrate, taurine, l-glutamine, leucine, isoleucine and valine. Creatine allows muscles to recover after a workout. L-glutamine is an amino acid that is important to muscle recovery as well. According to the University of Maryland Medical Center, l-glutamine may play a key role in immune system function, especially in athletes who participate in endurance events such as marathons.
Flavoring, Sweeteners and Other Ingredients
Depending on the flavor chosen, various natural and artificial flavors are added to impart taste. For example, the chocolate flavor includes cocoa. The protein powder is sweetened with acesulfame potassium and sucralose. Acesulfame potassium and sucralose provide sweetness without the added calories that may be counterproductive to the goals of athletes and body builders. Individuals with sensitivities to artificial sweeteners should avoid using this product, however. The Super Advanced Whey Protein also includes cellulose gum, soy lecithin and sunflower lecithin.