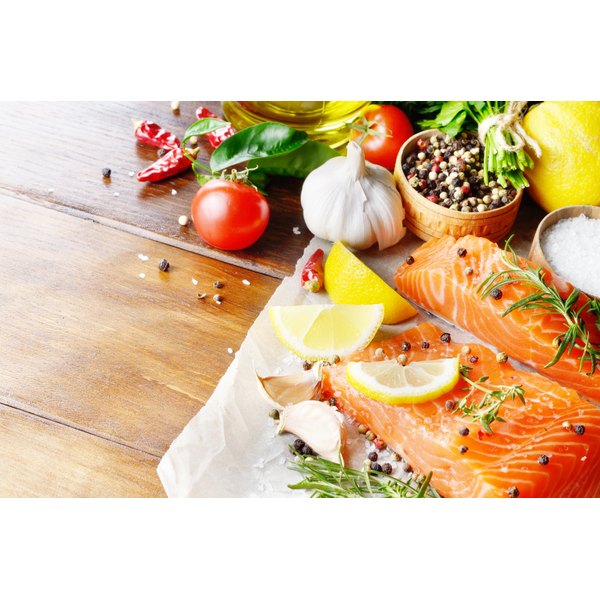 Eating a gluten-free diet can be difficult at first; however, making a few simple changes will make it easier. Identifying which foods and ingredients contain gluten is the key to creating a gluten-free meal plan. Eating a gluten-free diet does not mean you have to give up the foods you enjoy, as there are many gluten-free alternatives. Plan ahead by creating a meal plan using naturally gluten-free foods as well as incorporating alternative gluten-free products.
Identify Gluten-Free Foods
An important step in creating a gluten-free diet plan is to identify foods that are naturally gluten-free. Some naturally gluten-free foods include fruits, vegetables, meat, seafood, eggs, butter, rice, nuts, seeds, honey, molasses, oils, and herbs. Meat and seafood should be prepared plain, without breading in order to be gluten-free. Another important step is to identify gluten-free packaged foods while being aware that some ingredients may have hidden sources of gluten, such as dry-roasted nuts, seasonings and soy sauce.
Planing Ahead
Creating a gluten-free menu ahead of time each week can be helpful if you find yourself confused about what to eat come mealtime. There are many gluten-free options to choose from, especially now that more gluten-free brands are available at supermarkets. While shopping, you can find many gluten-free versions of almost any wheat-containing food, such as bagels, waffles and pancakes. These are often made with a mix of gluten-free flours such as rice flour, quinoa flour and millet flour. Choose naturally gluten-free foods, such as fruits, meat and vegetables, as often as possible.
Eating Out
Your meal plan may have some free space in it for eating out. It's best to call ahead or do some research prior to leaving the house to find out which restaurants carry gluten-free menu items. Many restaurants now post their gluten-free menus online. When traveling, you can also bring along your own food, such as a sandwich made with gluten-free bread. This ensures that you always have something gluten-free to eat.
Sample Menu Items
A sample breakfast menu might consist of waffles, made with gluten-free flour, and fresh strawberries -- or an omelet with fresh vegetables and hash browns. Sample lunch items could include a pizza made with gluten-free flour and topped with vegetables or brown rice with chicken. An example of a gluten-free dinner could include fish with vegetables and rice or a hamburger on a gluten-free bun with a tossed salad. Snack ideas include gluten-free rice crackers and cheese or celery sticks with peanut butter.