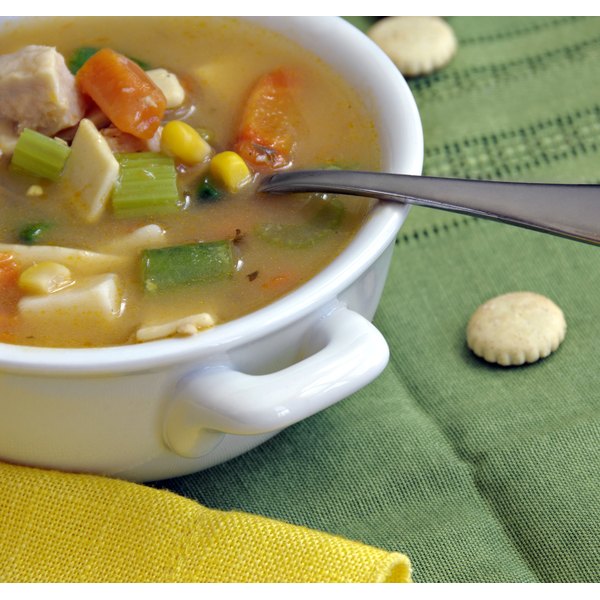 The protein soup diet debuted in the May 2004 issue of "Women's World." Created by Dr. Mary Dan Eades, the protein soup diet aims to provide people with a high-protein, low-carbohydrate simple meal plan. Dr. Eades focused a large part of the diet on soup as a means of consuming quick, nutritious meals while trying to lose weight. The diet, which allows for some flexibility, was designed to help reduce the risks of dietary temptations and increase dietary compliance with an easy-to-prepare, homemade protein soup.
Identification
The protein soup diet consists of three meals a day. Each day starts with a high-protein breakfast that includes foods such as bacon, eggs and berries. Other options include plain yogurt with protein powder or a protein shake. The second and third meals of the day consist of only the protein soup. If satiety becomes an issue on the diet, Dr. Eades recommends consuming foods high in fat and avoiding carbohydrates, although she doesn't specify the types of fats to consume. Use the protein soup diet over a period of two or three weeks for weight loss, Dr. Eades recommends.
Ingredients
Vegetables, broth and chicken are the basic ingredients of the protein soup diet. The vegetables include one clove of garlic, half an onion, one carrot, two celery stalks, one zucchini and one can of seasoned tomatoes. For the protein component, the soup calls for one pound of boneless, skinless chicken pieces, cut into small chunks and seasoned with salt and pepper. The additional ingredients of 2 tbsp. each of olive oil and parsley, as well as 1 qt. of chicken broth, complete the soup.
Instructions
To prepare the protein soup, sauté the onion and garlic in the olive oil until they're translucent. Add the chicken and sauté the mixture until the chicken is cooked and opaque. Next, add the zucchini, carrot and celery and continue cooking for five minutes. Add the remaining ingredients and bring the soup to a boil before reducing the heat and simmering until all of the vegetables are tender. This recipe will provide four servings of the protein soup, each consisting of 27.5g of protein, 14g of carbohydrates and 345 calories, according to Dr. Eades.
Benefits
High amounts of protein, a macronutrient that helps build and repair muscle, may benefit a weight loss routine. A higher protein intake increases your metabolism and satiety, as well as reduces your overall caloric intake, according to the Journal of the American College of Nutrition. Additionally, higher-protein diets may result in more fat loss than lower-protein diets, but long-term research is required to confirm the benefits of a high-protein diet.
Warning
Consuming a high-protein diet may pose health risks, such as increased risk of heart disease and cancer, according to the Mayo Clinic. Because of the potentially high amounts of cholesterol and fat and limited fiber included in a high-protein diet, health complications and gastrointestinal problems may result. Consume a wide variety of healthy whole foods to encourage long-term health.