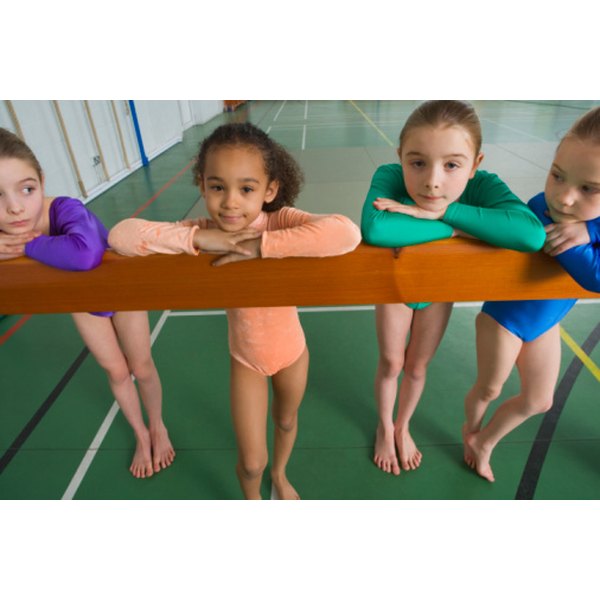 Beginning level gymnastics classes can be a fun way for girls to get exercise and learn new skills. A gym is a safe place for kids to jump, flip, swing and fly through the air with supportive, experienced coaches to direct them. Introducing young girls to gymnastics can give them skills they can use throughout life, both in the gym and out.
Class Structure
Most gymnasiums organize classes by age and separate boys from girls over age 4 or 5. A standard class involves six to eight girls and one coach, who can be male or female. Most classes last an hour, but toddler-level classes are usually 30 to 45 minutes. Parents usually sit in a waiting area or lobby during class, and many gyms allow parents to watch their children through a large window or balcony area.
Girls' Events
Women's gymnastics involves performing on four events: the balance beam, uneven parallel bars, vault and floor exercise. A child's age dictates how much she participates in each event. There are also other activities that prepare kids to learn skills for each event. For example, kids might learn to perform flips on a trampoline before trying them on the floor. Younger children spend more time on these kinds of activities and then graduate to the more-advanced apparatus. Since each gymnastics event involves a lot of complex actions that can be dangerous if done incorrectly, coaches teach children very slowly with lots of support as they go. For example, beginners might start walking on a floor-level beam while being spotted, or held, by a coach, and slowly work up to walking on the tallest beam by themselves. Tricks like flips and jumps can take years to learn.
Developing Skills
Gymnastics classes can help girls learn many different physical skills. According to the Gymnastics Academy of Boston, gymnastics can help kids develop better balance, coordination and body movement, all of which enhance a child's general athletic ability. Gymnastics also helps kids become more flexible, which helps limit injuries. Moving and lifting their bodies during gymnastics helps kids build strength and power. Finally, gymnastics, like any physical activity, helps kids to be fit and healthy.
Other Benefits of Gymnastics
The Gymnastics Academy of Boston describes several other ways that young girls can benefit from starting gymnastics classes. Since kids gain self-confidence from achieving goals and learning new skills, each new gymnastics trick that a girl learns can boost her self-confidence in all areas of her life. Perfecting a new skill in gymnastics takes concentration and repetition, which helps kids learn that hard work and determination pay off. While in gymnastics class, kids have to wait their turn, listen to the instructor, respect others, follow directions and pay attention, which are all valuable social skills, especially for younger kids. Some gymnastics skills such as swinging on high bars or flying through the air are very challenging; learning these skills can help kids to overcome fears, which helps them feel proud and accomplished.