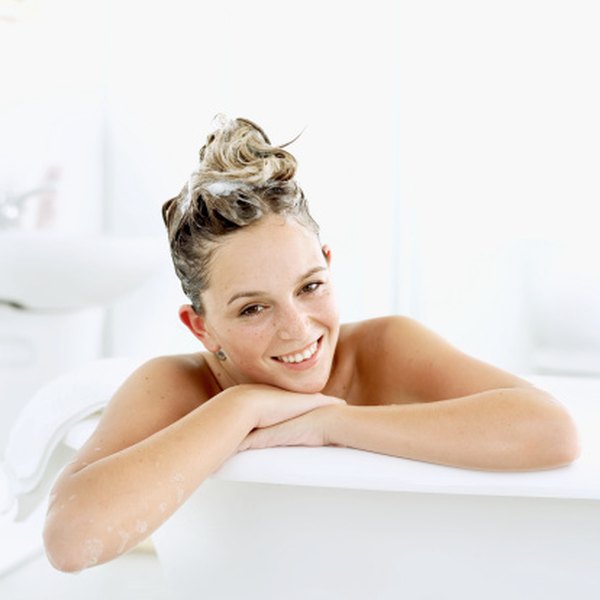 An itchy scalp can make it hard to concentrate during the day and keep you awake at night. Many factors contribute to itchiness and an itchy scalp may be accompanied by redness or blisters. In some cases, an itchy scalp signals a serious medical condition and a doctor's care may be necessary to ensure your well-being. Take action to stop itching on your scalp by following some common guidelines. Consult your doctor before taking any home remedy to treat a scalp disorder.
Resist the urge. Scratching intensifies itchiness and discomfort, so keep your hands away from your hair when possible and wear gloves while you sleep.

Visit the shampoo aisle. Your drugstore probably carries non-prescription shampoos with selenium sulfide or salicylic acid, which can relieve itchiness. Shampoos with coal tar or zinc pyrithione may also be helpful. FamilyDoctor.org recommends using the shampoos daily until your itchiness subsides; a healthy scalp needs shampoo only two or three times each week.

Avoid stress. Some people suffer itchiness on the scalp during periods of intense stress. Recognizing your common stress triggers and practicing relaxation techniques may be beneficial.

Apply nighttime treatment. MayoClinic.com reports that the gentle application of mineral oil to your scalp each night can often bring relief. Cover your scalp with a shower cap for best results.

Cool down. Your risk for scalp itchiness rises when you become overheated and sweaty.

Check with your doctor. Scalp itchiness may be triggered by conditions related to your thyroid or kidneys, and itching can also result when your body lacks sufficient levels of iron. Your doctor can help determine the cause of your itchiness and prescribe a treatment.

Consider alternative therapies. Your doctor can let you know whether chamomile or calendula creams may soothe your itchy scalp. Non-prescription evening primrose oil can potentially relieve itchiness by giving your body healthy fatty acids, although more evidence is needed to determine any long-term benefits of the supplement, according to MayoClinic.com.

Tip

For best results, rub anti-itch shampoo into your scalp thoroughly and let the shampoo remain for a minimum of five minutes before rinsing. Your doctor may recommend combining a prescription steroid lotion with the shampoo to relieve persistent itchiness.

Warnings

Avoid potential inflammation and itching by testing any new product on less-sensitive areas of your skin first, according to Go Ask Alice!, a health resource at Columbia University. Apply a small amount of the lotion or cream and then isolate it with a bandage on consecutive days. The product is probably safe for your scalp if you don't experience a negative reaction.