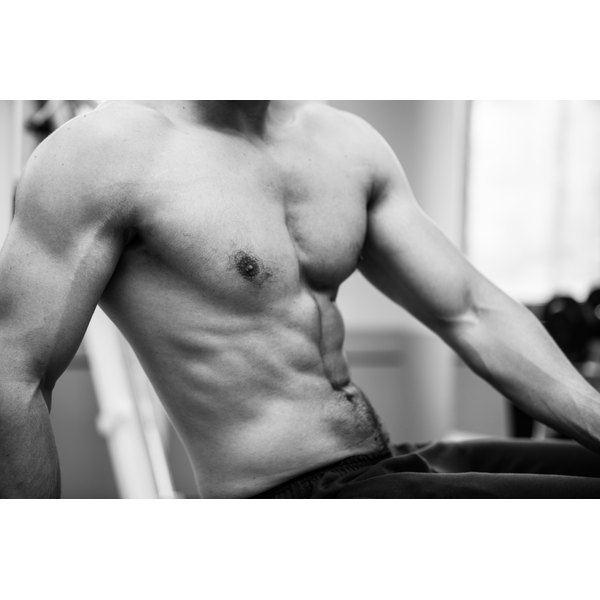 Men can develop large breasts for a number of reasons, even just from being overweight. Body fat can accumulate beneath the wall of your breasts, creating large breasts. Certain medications — such as some chemotherapy treatments, antibiotics, antidepressants and heart drugs — can cause you to develop breasts. Alcohol and street drugs, such as marijuana, heroin and steroids, can also make your breasts become larger. Certain medical conditions such as hypogonadism, hyperthyroidism and kidney and liver failure can cause your breasts to grow. Depending upon the cause and the size of your breasts, treatment options will vary.
Exercise on a regular basis. If you've developed large breasts due to excess weight, exercising regularly will help you lose body fat, which will decrease the size of your chest. Aim to lose about 1 to 2 pounds per week, says the American Council on Exercise. Strength training can build muscle behind your breast wall, which can give your chest a firm, muscular appearance.

Eat only healthy foods and try to follow a low-calorie diet. Discuss calorie intake with your healthcare provider. Depending upon your age and weight, he may recommend a specific calorie range that you should consume daily. Your doctor may also want to monitor your weight loss to ensure there are no underlying medical conditions.

Identify whether your medication is causing your breasts to grow. Ask your doctor or pharmacist if growing larger breasts could be a side effect of any medications that you are taking.

Ask your healthcare provider if there is an alternative drug or treatment option. If antibiotics are causing your breasts to grow, perhaps your doctor could prescribe a different type of antibiotic. If you take antidepressants and your doctor believes you can manage without them, you may be able to discontinue treatment. Never discontinue any medications without your physician's approval.

Shrink breast tissue with liposuction. If you have large breasts due to a medical condition or excess fat, you may want to consider liposuction. Liposuction will remove excess fat from behind the breast wall; it does not remove the breast gland tissue.

Remove breast gland tissue and fat with a mastectomy. A mastectomy removes any fat, along with the breast gland tissue. This procedure uses endoscopic techniques so the surgery is less invasive and requires less recovery time.