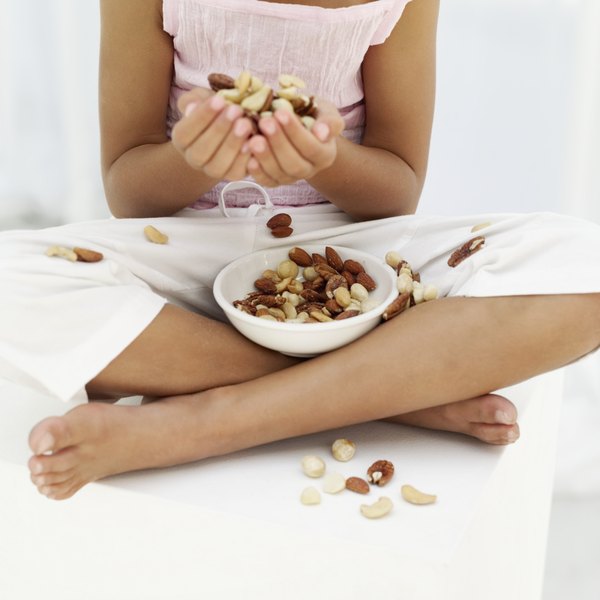 Invisible fats are the products added to recipes that contribute to dietary fat intake. These fats are "invisible" because they are added to foods and dieters are unaware of the fat they consume. Fats included in foods from the grocery store can be discovered by reading food labels. Foods that are cooked in the home or by family members are the most common forms of invisible fats, since dieters are unaware of the content.
Dairy
Dairy is often added to recipes such as creams, sweets and gravy. Dairy contains a large amount of fat and cholesterol that is invisible to dieters who eat pre-made meals. Eggs are also added to recipes, which greatly increases the amount of fat in some products. Some food manufacturers have included optional products that are non-dairy, greatly reducing the amount of invisible fat in the food product. Cheese is added to some meals as well, but it can be removed. For instance, ordering a hamburger instead of a cheeseburger cuts out the invisible fat.
Nuts and Seeds
Nuts and seeds are added to snack products and in recipes for sweets like cookies. Nuts and seeds can be a good source for unsaturated fats, which are included in the good fats category. However, for people on a low-fat diet, these products get added to foods like cookies, salads, cereals and fruit salads. Some nuts have lower amounts of fats like almonds and walnuts. Nuts like cashews and peanuts contain large amounts of fats. When eating out at a restaurant, ensure the salad ordered does not contain peanuts to avoid invisible fat and food allergies.
Oils and Butter
Oil is added to several cooked foods especially in restaurants. Butter is an added product placed in pans for greasing and flavoring. Oil is used in fried foods, which is the source of the unhealthy cooking technique. Oil is also added in recipes, such as creams and salad dressings. Butter is used to flavor some foods, and it's added to several types of recipe including pastries and sweets. To avoid invisible fats, use low-fat alternatives in recipes and avoid fried foods.