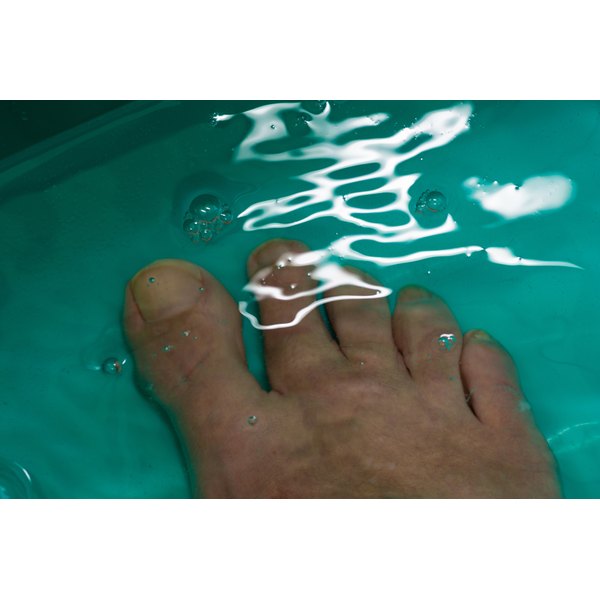 A detoxifying footbath is believed to be a way to remove excess wastes from the body through the bottom of the feet. Such methods have been used for thousands of years in ancient folklore and medicine for the treatment of infection, fever and chronic illnesses. Learning how to make a detox footbath for use in your home, using relatively inexpensive ingredients may help improve your own health and wellness, as well as offer a great way to relax and soothe nerves and anxiety. Make a detox foot bath using calcium bentonite clay, also known as green clay, for an excellent foot bath that has been used by Native Americans, Chinese and Indians for generations.
Purchase a jar of green clay from your local health store or order online. Green clay, also known as bentonite clay, contains negative ions that are believed to help draw wastes from the body.

Mix 1 to 2 cups of clay with 2 to 3 gallons of water until the contents are well blended.

Fill your bathtub with warm water according to your own comfort level and then add the clay and water mixture to the bath.

Soak in the bath for approximately 20 to 30 minutes. If you're sick, cut that time in half, as the mixture helps draw toxins and fluids along with it from your body and into the bathwater, which makes some people feel tired or weak. Drink water throughout the process to help replace body fluids drawn out through the clay bath.

Prepare a detox foot bath using 1 cup of green clay mixed with ground herbs of your choice the following week, according to scent if you want. Fill the bathtub with just enough water to cover your feet. Soak your feet for about 10 to 20 minutes and you will notice the water start to change color as toxins are drawn from the body and fill the tub.

Tip

Add herbs to the bathwater that help promote relaxation and cleansing such as witch hazel, yucca root, slippery elm bark and capsicum.