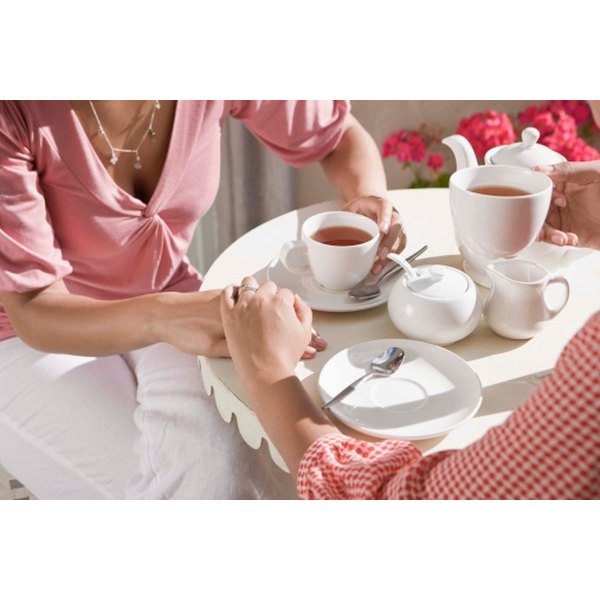 Because Darjeeling tea contains few calories, it can be a healthy, low-calorie alternative to beverages high in sugar, sodium and calories. While Darjeeling tea shouldn't replace meals, the drink can substitute for high-calorie drinks, which can assist in weight loss. Darjeeling black tea contains approximately 20 to 34 mg of caffeine when brewed for one minute, says the University of Illinois Extension. In its less common green or oolong form, it contains 9 to 19 mg caffeine.
Darjeeling Tea
Darjeeling tea is typically found in black tea form. However, the product is also available as a green tea. The tea -- which has a thin body and floral aroma -- gets its name from the Darjeeling region of India where it's grown. According to the Adagio Teas website, the town of Darjeeling is nestled against the Himalayan mountains at a 7,000 foot elevation level. The rich soil and humid climate found there create ideal conditions for Darjeeling tea to grow.
Weight Loss
According to the Darjeeling Tea site, one cup of tea contains approximately four calories. When low-calorie foods and drinks are substituted for higher calorie options, weight loss is more likely to occur. In addition, Darjeeling tea contains polyphenols, a type of enzyme that contains flavinoids. These flavinoids are anti-oxidants that can help prevent cell damage, explains the Darjeeling Tea website.
Preparation
Darjeeling tea can be prepared and purchased various ways. When buying Darjeeling tea, you can select either prepackaged teabags or loose tea. To prepare loose leaf Darjeeling tea, add one level teaspoon to a mesh tea ball. Add one cup of very hot water to the tea and steep for one to four minutes. For teabags, add one teabag to a cup of hot water. Serve with a slice of lemon if desired.
Benefits
In addition to potentially promoting weight loss, Darjeeling tea has other benefits. For example, Eating Well Magazine states that those who drink black tea regularly are less prone to heart attacks, strokes, colon cancer and lung cancer. The beverage can also reduce your risk of diabetes, osteoporosis and tooth decay.
Considerations
Darjeeling tea should never replace your meals. It's important for your body to still get its daily requirements for various vitamins, minerals as well as proteins. If you struggle with being overweight, speak to your doctor or a nutritionist about weight loss options. She can provide you with advice, insight and even help adjust your diet and workout routine. A healthy diet and exercise regimen is key to weight management.