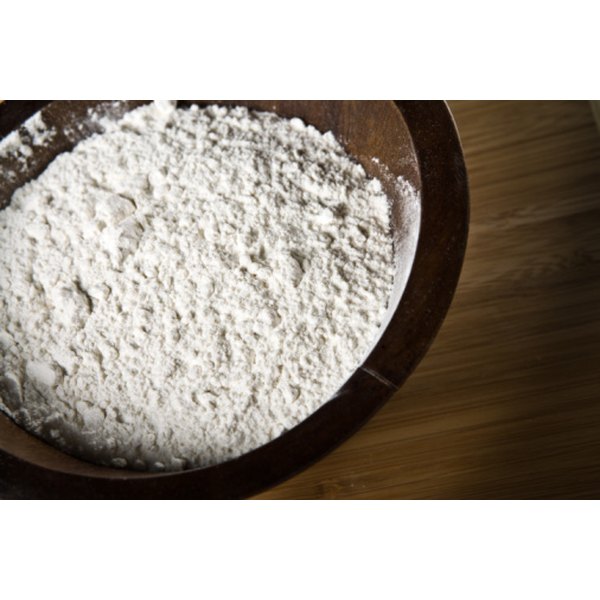 Flour – commonly made by grinding grains – is an important ingredient used for baking and cooking in foods such as breads and pastas. Basic components of the grains are broken down into gluten and starch, but many individuals may be allergic to these components. With these specific food allergies, ingredients must be used that don't contain these components. As a result, wheat-, potato- and starch-free ingredients and recipes must be used. Cooking without wheat, potato or starch requires a specific process to eliminate them from the foods.
Read the ingredient list to every recipe. Consult a cookbook with wheat-, potato- or starch-free recipes for suggested recipes and substitute ingredients. At times, these recipes allow omitting flour, but some recipes require a substitute.

Read the nutrient labels for the ingredient list and possible food allergens on every food. The U.S. Food Allergen labeling requires processed foods to contain potential food allergen information for milk, eggs, tree nuts, peanuts, wheat, soybeans, fish and shellfish. Look for wheat or gluten on the nutrient label.

Substitute flours in place of the wheat, potato or starch. Recipes containing small amounts of flour will have the best results with substitute flours. Gluten-free flours will absorb more water than wheat flour, which may require you to add water.

Choose the specific flour substitute based on the food. Common wheat-, potato- and starch-free flours include amaranth, quinoa, sorghum arrowroot, brown rice and buckwheat flour. Proportions will remain nearly the same for most recipes.

Store substitute flours in an airtight container to extend the shelf-life. Some flours may also require storing in the refrigerator to maintain freshness.

Tip

Some grocery stores will isolate wheat-, potato- and starch-free products products in one section such as the health food department. You can also locate possible products from an online store.

Experiment with different flours and recipes to find a specific combination with a good taste.

Consult dietitian for recommendations on substitute flours or wheat, potato and starch free cooking tips.