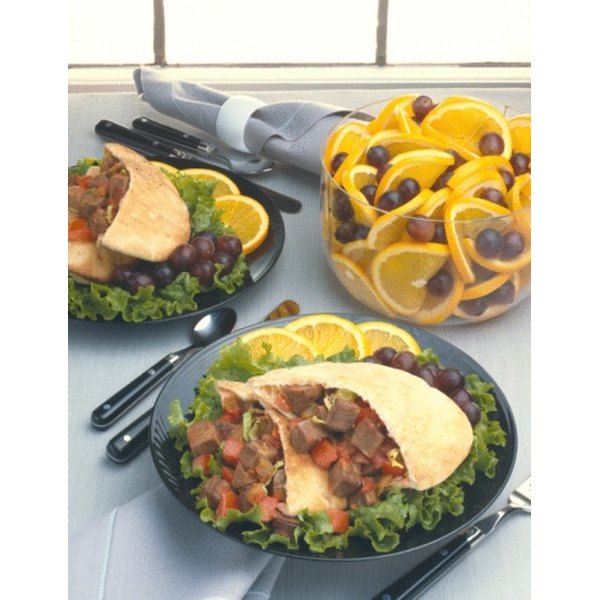 Portable, tasty and low in fat, pita bread can inspire unlimited ideas for healthy sandwiches. One large whole-wheat pita has 170 calories, 2g of fat, 35g of carbohydrates and 5g of fiber. For a balanced meal, start by filling this pocket-shaped flatbread with one or two servings of vegetables. Add a serving of low-fat protein and a source of unsaturated fat, such as olive oil, avocado slices or slivered almonds.
Hummus, Tabouli and Tomatoes
Hummus is a traditional Middle Eastern blend of chick peas, olive oil, garlic, lemon juice and tahini, or sesame butter, that spreads easily into a pita. Full of fiber and protein, hummus makes a healthy foundation for your sandwich, and its unsaturated fats can help lower your cholesterol. Include a spoonful of tabouli, a Middle Eastern salad made of chopped parsley and couscous, and fresh tomato slices.
Tempeh, Baby Herbs and Sliced Ginger
Tempeh is a fermented soybean cake that's gaining popularity as a low-fat protein alternative. Grill slices of tempeh, then enjoy its nutty taste in sandwiches or salads. With its protein, fiber and unsaturated fat content, tempeh is a healthy substitute for meat. Combine tempeh with a blend of baby herbs and freshly grated ginger for a pita sandwich with an Asian flavor.
Turkey, Alfalfa Sprouts and Avocado
When buying packaged turkey for sandwiches, check the sodium content on the nutrition facts label. The Harvard School of Public Health recommends that you limit the sodium content in one meal to 300mg to keep your daily intake below 2,300mg of sodium. Avocado brings heart-healthy fat to this trio of ingredients. Add extra color, flavor and crunch by including slices of shaved red cabbage.
Falafel with Cucumber Yogurt Sauce
A staple of Mediterranean cuisine, falafel consists of fried or baked chickpea flour blended with herbs. Baking your own low-fat falafel can be easy using a packaged falafel mix. Cucumber yogurt sauce complements warm falafel and pita bread. Prepare your own sauce using plain yogurt, chopped cucumber, garlic and mint, or use a bottled, low-fat creamy salad dressing. Top off your sandwich with fresh cucumber slices and slivers of sweet red onion.
Lean Hamburger, Field Greens and Roasted Red Peppers
For a twist on the plain hamburger bun, try pita instead. With its protein and iron content, beef can be a healthy part of your diet if you drain saturated fat while cooking. Buy hamburger that's at least 90 percent lean meat. Grill hamburger with sliced red bell peppers drizzled with olive oil. Add field greens for a colorful variation on the classic burger.
Tuna Salad, Red Grapes and Romaine Lettuce
Make tuna salad using 1 tbsp. of safflower oil mayonnaise or olive oil, black pepper and chopped red onions. Cut seedless red grapes in half and blend into salad. Fill your pita with the tuna and vitamin-rich romaine lettuce. Tuna provides protein, iron and fats that benefit your heart. Juicy red grapes offer a sweet contrast in flavor, along with fiber and resveratrol, which may lower your cholesterol and your blood pressure.