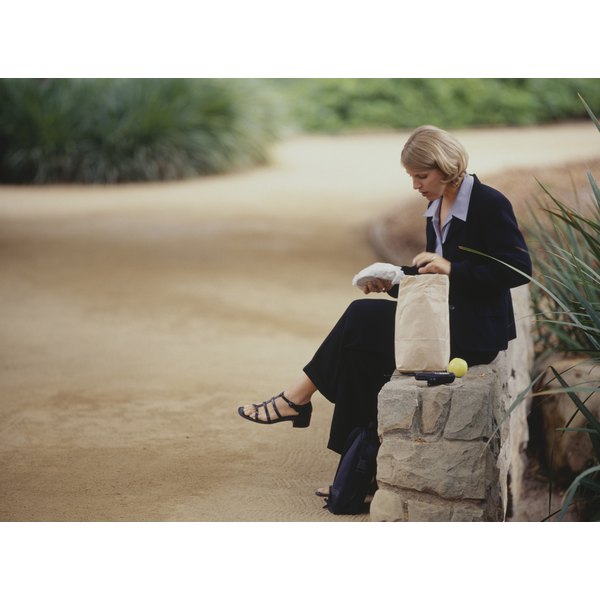 Taking your lunch to work instead of going out to eat can save money as well as time. More importantly, a brown bag lunch can also be much healthier than fast food or restaurant lunches. Healthy brown bag lunches for adults should be high in essential nutrients, quick to assemble and easy to transport.
Update Old Favorites
Modify some of your favorite brown bag lunches from childhood to make them healthier and more appealing to grown-up tastes. To transform a peanut butter and jelly sandwich into a healthy sandwich for adults, substitute whole-wheat bread for white, use apple slices or other fresh fruit instead of sugar-laden jelly, and opt for low-sodium peanut butter. Instead of pizza, roll diced tomatoes, fresh basil leaves and shredded low-fat mozzarella cheese into a whole-grain wrap.
Pack Healthy Snacks
A brown bag lunch should include enough sides or snacks to stave off hunger for the entire day so you don't purchase junk food from vending machines or convenience stores. Hard-boiled eggs provide protein, while cottage cheese and low-fat cheese sticks supply protein as well as calcium and vitamin B-12. Whole-grain snacks such as air-popped popcorn and whole-wheat pretzels supply dietary fiber and essential vitamins and minerals. Nuts, peanuts and dried soybeans are also nutrient-dense.
Include Fruits and Vegetables
Fresh fruit and vegetables are low-calorie options that provide dietary fiber, vitamins A and C, and potassium. Take washed whole fruit, such as apples, pears, nectarines and oranges, or cut melon ahead of time and pack it in a container. Baby carrots, grape tomatoes, sugar snap peas and cauliflower florets require almost no preparation, and they travel well. You can also use containers to pack healthy dips, such as hummus or peanut butter.
Considerations
Brown bag lunches can get boring if you limit yourself to standard choices, such as peanut butter sandwiches. Vary your lunches by including leftovers from dinner. Make wraps with grilled chicken breast or vegetables, or mix salads with cooked brown rice or pasta and diced tomatoes, parsley and garbanzo beans. Another idea is to take whole-wheat cereal and yogurt for lunch instead of eating them for breakfast. Read the labels on food packages and choose low-sodium, low-fat or low-sugar varieties when possible.