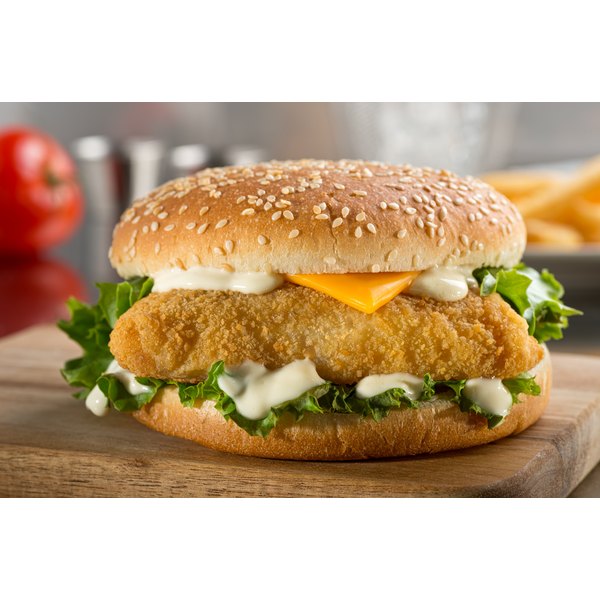 Knowing the nutritional information for different foods that you eat can help you plan a healthy and well-balanced diet. When a food is purchased from a grocery store, it usually comes with a nutrition label that contains all of the nutrition information.
Foods that are purchased from fast food restaurants, such as Arby's, typically do not come with a nutrition label, however. This means that if you eat a fish sandwich from Arby's you may need to look elsewhere to find its nutritional statistics.
Calories
One fish sandwich from Arby's contains 570 calories, according to LIVESTRONG's food database MyPlate. A standard reference point for daily calorie consumption is 2,000 calories, which is sufficient to help most people maintain a healthy weight.
Using this basic reference point, an Arby's fish sandwich contains approximately 28.5 percent of the recommended daily caloric intake, which means that it can be used as part of a meal without requiring significant calorie reduction in other meals during the day.
Macronutrients
Macronutrients are the compounds that give a food its calories. The macronutrients for foods are carbohydrates, proteins and fats. One fish sandwich from Arby's contains 25 grams of fat, including four grams of saturated fat. There are 65 grams of carbohydrates and each fish sandwich has 20 grams of protein.
Other Nutrients
The Arby's fish sandwich contains 45 milligrams of cholesterol and 990 milligrams of sodium, which means that this sandwich may not be suitable for someone on a low-sodium diet. An Arby's fish sandwich also contains three grams of fiber and nine grams of sugar.
Considerations
Arby's sandwiches come with several condiments. The addition or subtraction of such items as mayonnaise, ketchup, pickles and salt will alter the nutritional information of an Arby's sandwich, though not to a very large extent.
People looking to have a diet plan should note that while fish is often a healthy food choice, the fish sandwich at Arby's is fried, which adds a significant amount of fat.
More About MyPlate
The free LIVESTRONG MyPlate calorie tracker app for iPhone and Android has helped millions of people lose weight the healthy way — by getting support from an active community as they track their eating and exercise. Consistently a top-rated app, MyPlate offers the latest technology in an easy-to-use tool that includes millions of foods and recipes, 5-minute in-app workouts and a robust support community.