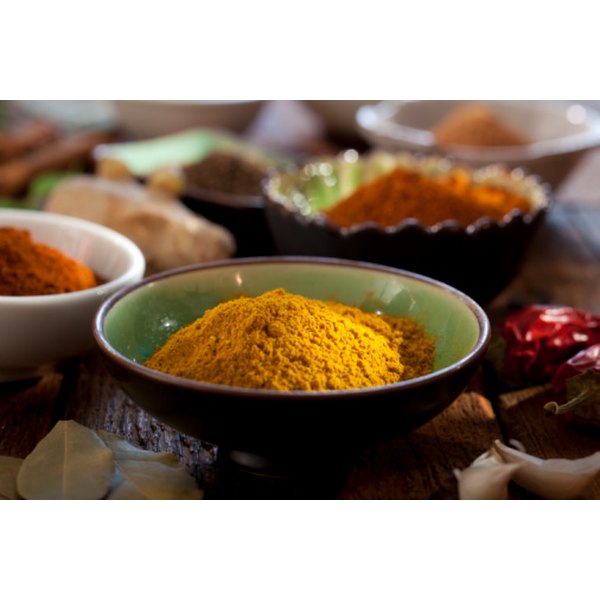 Turmeric is a spice also known as Indian saffron or curcumin. According to The National Center for Complementary and Alternative Medicine (NCCAM), turmeric is also a compound in Ayurvedic medicine. Turmeric has a number of possible uses as an alternative treatment for pain. In combination with lemon juice, turmeric could work as an analgesic with antibacterial properties and work as a soothing tea. Before using any herbal supplement, be sure to consult with your health care provider.
Turmeric
Turmeric is a shrub native to India, Asia and Africa. The herbal formula for this spice comes from the underground stems, known as rhizomes. Manufacturers dry the stems to create a powder. NCCAM reports that turmeric is a go-to formula in both traditional Chinese and Ayurvedic medicine. Ailments that may benefit from turmeric include arthritis, eczema, heartburn, ulcers and gallstone. Turmeric is a natural anti-inflammatory. NCCAM also states that little clinical research is available to confirm the healing properties of turmeric.
Lemon
Lemon is more than just a citrus drink when you consider its medicinal properties. According to Drugs.com, epidemiological studies confirm that citrus fruit, such as lemon, will reduce the risk of some diseases, such as nephrolithiasis, a kidney condition. Lemon also has antimicrobial and antiviral action that may work well with some applications that include turmeric.
Process
In combination, these two ingredients may be beneficial for a number of alternative treatments. As a tea, turmeric and lemon may help sooth the pain from a sore throat and work to fight free-radical damage. Boil two cups water and add 1/2 tsp. powdered ginger, and turmeric. Simmer for 10 minutes then strain the water into a cup. Add 1 tbsp. maple syrup and the juice from a fresh lemon. Ingested turmeric through tea may help reduce inflammation from arthritis and calm nerve pain, but studies have not proven this theory. Turmeric, by itself, also may offer some healing benefits. The University of Maryland Medical Center states that 300 mgs. of supplemental turmeric, taken as a capsule, may work for osteoarthritis. Remember that you should always consult your doctor before starting to take new herbal supplements. Turmeric, combined with lemon and salt, is also used in Ayurvedic medicine as a poultice to help with joint pain or sprains.
Benefits
Treatments using turmeric treatments have few scientific studies, so actual benefits are unknown. Medical sites, such as the University of Maryland Medical Center, mention turmeric as a treatment for thyroiditis and osteoarthritis. NCCAM reports the herb may aid digestion, relieve arthritis pain, and help to regulate menstruation. In combination with lemon, turmeric might reduce inflammation and sooth pain. The antimicrobial properties of lemon will help fight bacterial infection.
Considerations
Pain management is a balancing act. The most effective approach is probably drug therapy, as opposed to an alternative treatment such as turmeric and lemon. You should not turn to herbal formulas to relieve pain that affects your lifestyle or that is disabling. Pain of this magnitude requires medical intervention. Turmeric in high doses may affect liver function and cause digestive issues. NCCAM warns that those with gallbladder disease should not use turmeric. As a general rule, do not take any dietary supplements without consulting a doctor, as some can interfere with prescription medicine.