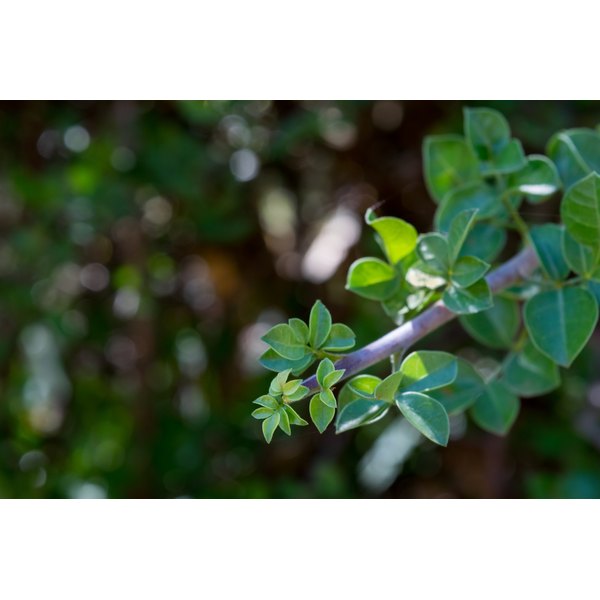 Gugulipid is a resinous substance obtained from the guggul tree, also known as the Mukul myrrh tree. The sap of the tree, or gum guggal, has been used for thousands of years in Ayurvedic medicine to lower cholesterol and to stimulate a sluggish thyroid. More recently, the use of gugulipid for weight loss has become popular in the United States and Europe. However, clear evidence that this dietary supplement effectively promotes weight loss is lacking. In addition, it is associated significant herb-drug interactions.
Botanical Profile
Guggal refers to Commiphora wightii, a member of the Burseraceae family of flowering trees and shrubs that consist of nearly 550 individual species, including frankincense and myrrh. Although each species may be unique in appearance and structure, one characteristic they all share is a resinous sap present in all parts of the plant, as well as a highly aromatic bark. Since these resins and barks are incorporated into incense, this family is commonly called the torchwood or incense tree family.
Pharmacological Actions
The principle agent in gum guggal is guggulsterone, which occurs as either of two molecules called E-guggulsterone and Z-guggulsterone. According to Muhammad Iqbal Choudhary and colleagues of the University of Karachi in Pakistan, E-guggulsterone metabolites demonstrate considerable antibacterial and free radical-scavenging properties. Z-guggulsterone, says Dong Xiao and Shivendra V. Singh of the University of Pittsburgh School of Medicine, deters tumor growth in human prostate cancer cells by triggering apoptosis, or programmed cell death.
Weight Loss Effects
According to Drugs.com, a 1984 study published in "Planta Medica" provided evidence that guggulsterone stimulates the thyroid, an event that increases metabolism and the burning of calories and fat. However, more recent studies indicate that guggal alone may not be responsible for this effect. For instance, Srujana Rayalam and fellow researchers from the University of Georgia reported in the Aug. 12, 2009 issue of the "Journal of Medicinal Food" that the combination of guggulsterone with xanthohumol, a flavonoid derived from hops, demonstrates greater anti-obesity activity than either plant compound individually. In addition, the mechanism of action was the removal of adipocytes, or fat cells, via cell death.
Side Effects
In the August 2004 edition of the "Journal of Pharmacology and Experimental Therapeutics," Dan E. Brobst and colleagues from the University of Kansas reported that guggal compounds may activate pregnane X receptor, a liver enzyme known to reduce the effectiveness of many prescription medications, including anticancer, cholesterol-lowering, blood-thinning and HIV medications.
The Aug. 13, 2003 issue of the "Journal of the American Medical Association" featured an article in which a study team led by Philippe O. Szapary reported that guggal might increase LDL cholesterol. The study, which involved a total of 103 patients with hypercholesterolemia, showed that all 67 people allocated to the guggal-treatment group experienced a slight increase in LDL levels. In addition, six people in the group developed an allergic rash.
Considerations
There is insufficient clinical evidence to show that using gugulipid for weight loss is effective or safe. However, the potential herb-drug interactions associated with this supplement have been established. Talk to your doctor before using this herb, especially if you have a chronic condition or are taking medications.