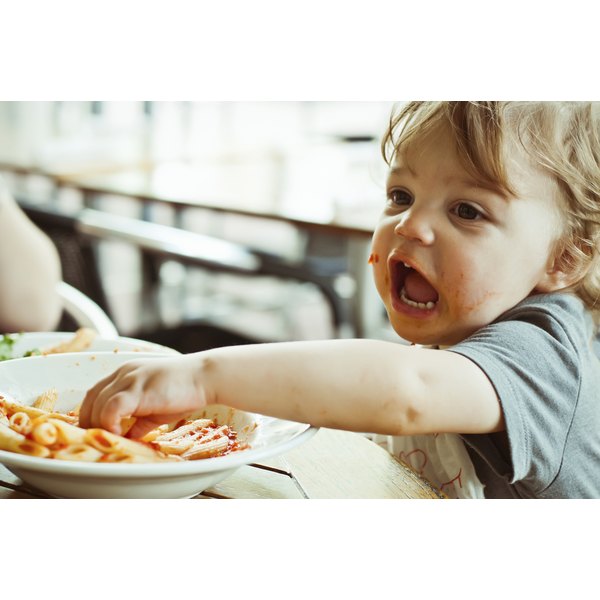 Once your child reaches the toddler stage you no longer have control over exactly how much he or she eats. Once they can feed themselves, it's harder to measure exactly what goes in the mouth. With a few guidelines, you can average how many calories your toddler needs to eat in a day.
Height
Unlike the guidelines for infants, the general rule for calculating calories for toddlers is to use the child's height, not the weight. According to BabyCenter, you may calculate a daily calorie estimate for your toddler by taking his or her height in inches and multiplying it by 40. With this formula, a 30-inch tall toddler needs 1200 calories a day.
Liquid Intake
Using both the juice and milk calculations of the American Academy of Pediatrics, or AAP, your child should only consume around 300 to 455 calories from milk and 60 to 90 calories from juice per day. On the high end, that totals 545 calories a day from liquids. Feeding your child too much liquid will cause him or her to lose her hunger for meals.
Food Intake
The AAP states that toddlers should eat on average 550 to 950 calories from food other than liquid per day. This number is assumed to be divided among three meals and two snacks daily. Healthy snack choices include whole grain crackers, thin slices of cheese and thin slices of fruit.
Considerations
Remember that every child is different and has different needs. Consult your child's physician before making any drastic dietary changes. Also, it is recommended that you space out new foods three days apart to watch for any possible allergic reactions.