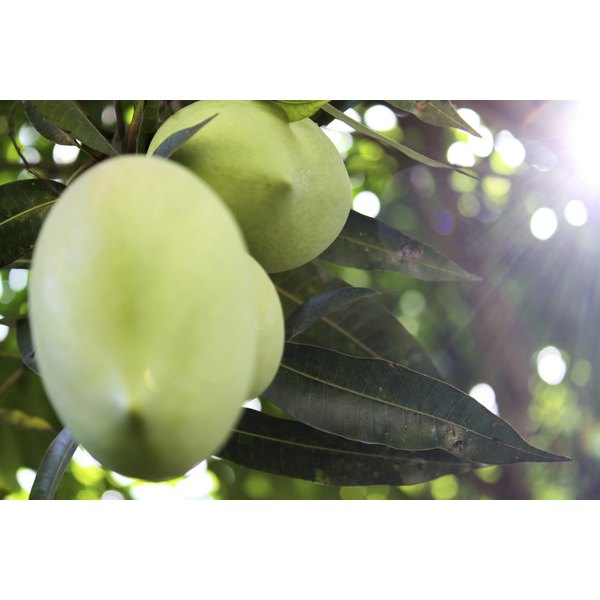 The percentage of overweight people continues to rapidly increase, particularly in the developed countries. Excess body weight is one of the leading risk factors in the development of such chronic conditions as diabetes, heart disease, cancer and osteoarthritis. A fruit commonly eaten in West Africa may help shed pounds and lower cholesterol, thanks to an extract from Irvingia gabonensis, also known as African mango. Extracts from the plant's seed may inhibit body fat production and have an effect on enzymes that regulate metabolism.
Identification
The African mango grows on a compact tree indigenous to the tropical rain forest of Guinea. The yellow fruit is significant for the seed, which is used in food preparations. For centuries, African mango has been used for medicinal purposes, including pain relief from the bark and diarrhea, hernia, diabetes and yellow fever treatments from seed extract and fever reduction from leaf extracts, according to Global Institute for Bioexploration. The African mango has a synergistic effect on lowering total cholesterol and low-density lipoprotein and has also been shown to have weight-loss properties.
Components
The African mango seed is 8.5 percent protein, 15 percent carbohydrate and 67 percent fat. African mango seed is high in calcium and iron as well as the B vitamins thiamin, riboflavin and niacin. Healthy fatty acid content includes myristic, lauric, palmitic, stearic and oleic acids. The oil in the seed of the African mango is a good source of beta-carotene, according to scientific literature from Albert Ayeni, Ph.D.
Effects on Cholesterol for Weight Loss
The high content of dietary fiber in African mango may lower cholesterol, which could equate to weight loss. A 2005 study published in "Lipids in Health and Disease," evaluated 40 subjects, 28 of whom were given African mango extract three times a day. After one month, the group given the African mango had lower total cholesterol, including LDL, the "bad" cholesterol, and triglycerides, as well as an increase in high-density lipoprotein levels, whereas the control group had no change in blood lipid levels.
Long-Term Weight-Loss Study
African mango extract increases adiponectin, a hormone that affects glucouse and fat metabolism and increases insulin levels, prompting the body to use fat for energy, resulting in weight loss. Research was conducted at Cameroon's University of Yaounde with a test group of 72 overweight adults, some of whom were given extracts of the West African mango two times a day over a 10-week period. The results, published in "Lipids in Health and Disease" in 2008, showed significant weight loss averaging 12 kg, compared with the placebo group, which showed no change. Additionally, the magnitude of differences continued to increase over the length of the trial period.
Side Effects
According to a report in the "Sydney Morning Herald," the study by the Fairfield, California-based Gateway Health Alliances found some subjects taking the Irvingia gabonensis extract reported side effects, including headaches, sleep problems and gas, but the rates were similar in the placebo group.