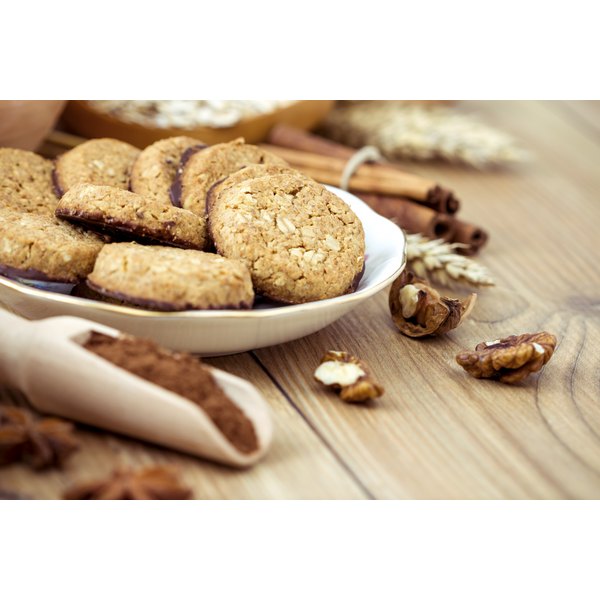 Breakfast cookies are a new trend for quick weekday breakfasts. Many cookie recipes use whole grains such as oatmeal and flax seed to make this baked good healthier. Some cookies have nuts, raisins or fruit for extra flavor. Dieters can either buy readymade diet breakfast cookies or make diet oatmeal-flax cookies at home.
Health Benefits
Ground flax seed contains omega-3 fatty acids. Both ground flax seed and oatmeal contain soluble fiber, which can help reduce LDL cholesterol levels and helps dieters feel more full. Drink a glass of low-fat milk along with an oatmeal-flax breakfast cookie. You can also eat some fresh fruit or low fat yogurt to round out the meal.
Smart for Life Cookies
As part of the Smart for Life Cookie Diet plan, these oatmeal raisin cookies have a special blend with milk, egg and whey proteins. These diet cookies include flax seed and several types of organic whole grains like whole oats, brown rice flour, whole-grain wheat flour and oat/wheat bran. Molasses, organic invert sugar and organic brown sugar are used for sweetening. Each Smart for Life Oatmeal Raisin cookie has 105 calories, 2.5 g total fat and 1.5 g saturated fat, 15 g carbohydrates, 1.5 g fiber, 5 g sugar and 5 g protein.
Lizzy Bizzy Bakery Cookies
Lizzy Bizzy Bakery in Michigan sells oatmeal flax seed cookies. Ingredients include: whole grain oat and flax seed blend, peanut butter, sugar, butter, raisins, eggs, vanilla, baking soda and cinnamon. Each Lizzy Bizzy Classic Oatmeal Flax seed cookie contain 260 calories, 14 g total fat, 5 g saturated fat, 27 g carbohydrates, 4 g fiber, 13 g sugar and 7 g protein. These oatmeal cookies are not low fat, but provide some fiber and protein. They do not contain any white flour, making them ideal for low carb or low GI diets.
Linda's Breakfast Cookie Recipe
Many home chefs like to make their own diet oatmeal flax seed breakfast cookies from scratch. Linda's breakfast cookie recipe contains oat bran, oats, flax seed and whole wheat pastry flour. These cookies are sweetened with orange juice, applesauce and honey and do not use any white sugar. Eggs, nonfat dry milk powder and nuts are added for protein and flavor. For two cookies with nuts and flax seed contain 220 calories, 7 g total fat, less than 1 g saturated fat, 37 g carbohydrates, 5 g fiber and 6 g protein.
Food Network Breakfast Cookie Recipe
This breakfast cookie recipe was created by Ellie Krieger on Food Network. It uses whole wheat pastry flour, white all purpose flour, oats and bran cereal. By adding pureed baby food carrots, raisins, cinnamon, nutmeg, vanilla, walnuts and dark brown sugar, this recipe mimics the flavors of a carrot cake but with less fat. One cookie contains 190 calories, 9 g total fat, 2 g saturated fat, 23 g carbohydrates, 2 g fiber and 3 g protein.