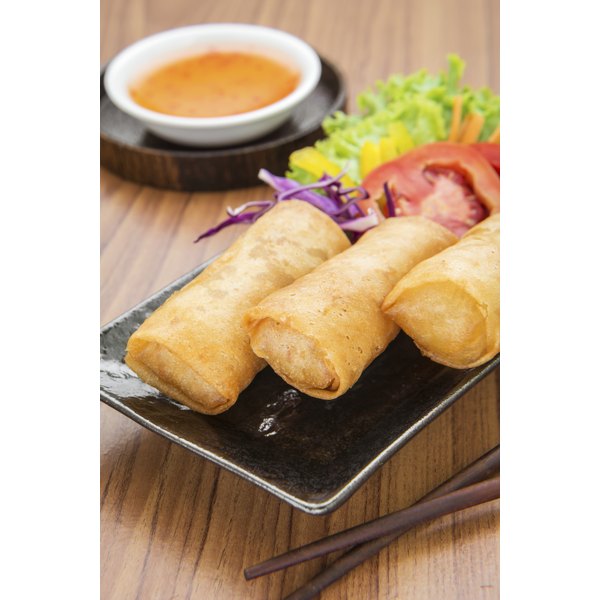 Lean Cuisine meals from Nestle are calorie-controlled meals that can fit into a weight-loss plan. The variety of breakfasts, lunches and dinners and snacks can prevent diet boredom. Though they may be low in calories, Lean Cuisine meals are often high in sodium and contain preservatives. Rather than relying solely on Lean Cuisine products, you can incorporate them into a diet that also includes plenty of whole, fresh foods.
Control Your Calories
Lean Cuisine meals can help you lose weight if you consume them in place of higher-calorie meals, since losing weight requires you to consume fewer calories than you expend. Portion-controlled meals, such as Lean Cuisine meals, can facilitate weight loss if you tend to eat multiple servings when you cook for yourself. Each of Lean Cuisine's Morning Collection breakfasts has less than 250 calories, as do lunch and dinner options such as cheese ravioli, baked chicken, beef pot roast and herb roasted chicken.
Make Good Choices
You should always read the labels on Lean Cuisine packaging so you know what nutrients you're consuming. Opt for low-calorie meals that are high in protein and fiber, since protein and dietary fiber are hunger-satisfying nutrients that can help you lose weight. Including Lean Cuisine appetizers in your meal plan can make sticking to your diet easier. Lean Cuisine offers a variety of meat and poultry dishes, as well as vegetarian options. The Lean Cuisine website has a search function that allows you to find products that meet your dietary requirements if you are on a low-calorie, low-carbohydrate or other kind of special diet. You can even specify your goal range for calories and nutrients, such as carbohydrates, fat and sodium, and the site will help you find appropriate meal choices.
Include Fresh, Nutritious Foods
Supplement your Lean Cuisine meals with low-calorie, fresh choices to help you lose weight. Add Lean Cuisine Additions to lettuce or fresh spinach leaves to make low-calorie, main-course salads. When having a Lean Cuisine frozen meal for lunch or dinner, steam or roast your own fresh vegetables, such as broccoli, cauliflower or eggplant, to make your meal more nutritious and filling without adding a lot calories. You might also include a slice or two of whole-grain bread with your meal for added nutrients and to help satisfy your appetite. A slice of wheat bread provides healthy carbohydrates and adds about 78 calories to your meal. If you are still hungry, finish off your meal with a piece of fruit. For breakfast, you might add 1/2 ounce of walnuts to your Lean Cuisine oatmeal. The nuts provide healthy fats, protein and about 94 calories.
Monitor Your Sodium Intake
Processed foods, including pizza and beef, chicken and pasta dishes, are among the top sodium contributors to the typical American diet. Sodium does not affect your body weight, but a high-sodium diet can lead to high blood pressure and the risk for heart disease and stroke. Choose Lean Cuisine meals that are lower in sodium. For example, the cranberry, pistachio and orange zest oatmeal contains 170 milligrams of sodium, while another breakfast option, the Canadian bacon English muffin, has 650 milligrams. Healthy adults should aim to consume less than 1,500 milligrams of sodium each day, according to the American Heart Association.