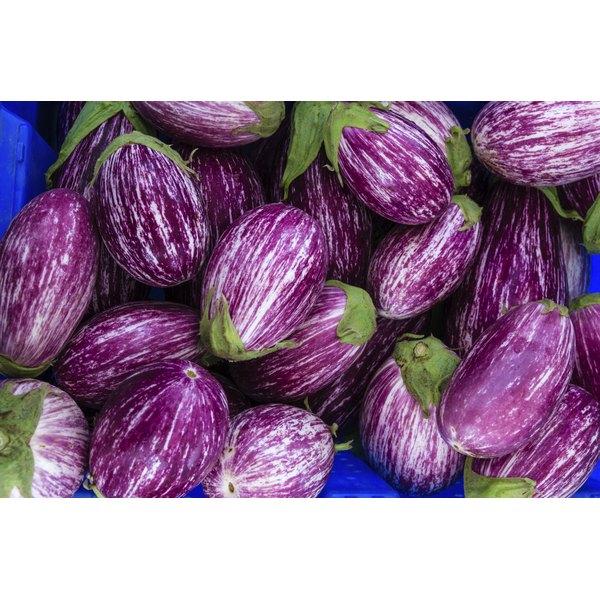 Eggplant is part of the category "functional foods." This category describes foods with physiologically active dietary components--components demonstrated to confer significant health benefits. Eggplant is part of this category due to its high viscous fiber content. Incorporating eggplant into your diet can help reduce the harmful LDL cholesterol in your body.
Clinical Research
In 2005 the American Journal of Clinical Nutrition published the results of a study examining a diet of foods containing cholesterol-lowering components. Each food had demonstrated in previous studies the ability to lower serum cholesterol by 4 to 7 percent. Researchers hypothesized that the combined effect of a portfolio of many such foods would be greater.
The study compared this portfolio of functional foods to a diet low in saturated fats and supplemented with 20 mg lovastatin. Lovastatin, like all statins, inhibits a cholesterol-making enzyme. A third diet, low in saturated fats but not supplemented with statins, was used as a control.
After four weeks, the portfolio diet demonstrated comparable results to the statin diet. Decreases were 29.6 percent and 33.3 percent respectively. The control diet lowered LDL-cholesterol concentrations by only 8.5 percent. Researchers concluded that dietary combinations of functional foods may be as effective as first-generation statins in controlling cholesterol as a preventative measure.
A similar study published two years earlier in The Journal of the American Medical Association showed similar results. The dietary portfolio group demonstrated an LDL-cholesterol decrease of 28.6 percent compared with a 30.9 percent decrease associated with a statin diet.
The Portfolio Diet
The Portfolio Diet combines the functional foods researched in these studies. It also eliminates all meat, eggs and dairy. According to the University of Mary Washington Health Center, the diet focuses on nuts, viscous fibers, soy protein and stanol esters. Eggplant is one source of viscous fiber; okra, oat bran and barley are others.
Viscous Fiber
A diet rich in viscous fiber--also known as dietary fiber or soluble fiber--correlates with a reduction in cholesterol concentration, especially LDL cholesterol. According to the nutrition department of the University of California, Davis, this reduction may occur by a mechanism having to do specifically with the fiber's viscous quality.
Dietary Changes
A 2006 article in the Washington Post acknowledges that strict adherence to the near-vegan Portfolio Diet can be difficult. It suggests, however, that adding elements of the Portfolio Diet to your normal routine can yield cholesterol-lowering benefits. Among the article's recommendations is the inclusion in more of your meals of eggplant and okra, two of the most potent cholesterol-lowering vegetables.
Easy Eggplant Recipe
The Washington Post article recommends against fried eggplant, since frying adds saturated fat. Instead, wash a whole eggplant and prick it several times with a toothpick, knife or fork. Bake it at 400 degrees F for about an hour. Let the eggplant cool, then scoop out its insides for use as a meat substitute in spaghetti sauce or as a dip mixed with garbanzo beans and tahini.