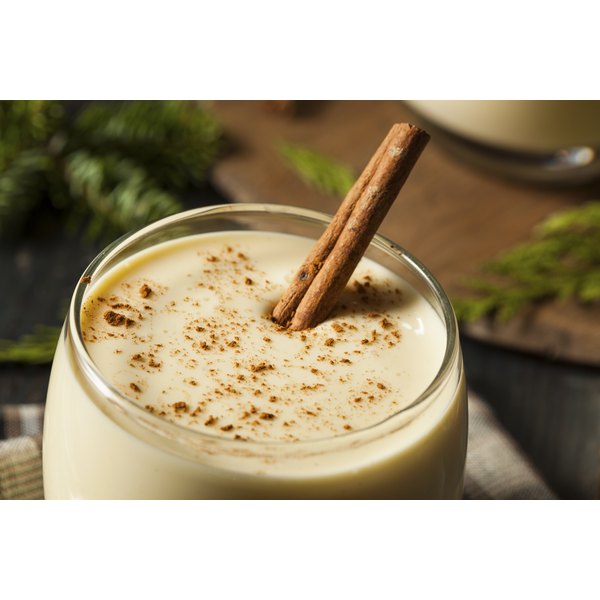 On a cold winter night, eggnog can hit the spot while you cozy up by the fire. A typical eggnog recipe includes egg yolks, sugar, milk, cinnamon, cream, nutmeg, bourbon and brandy. Drinking a cup of eggnog once every couple of weeks will not lead to a drastic weight gain, but portion control and moderation are important to achieving and maintaining a healthy lifestyle.
Tip
Eggnog has 95 Calories and 2.93 g of Protein per 100 gram serving according to the nutrition facts provided by the USDA Food Composition Database.
Nutrition Facts
One serving, or 1 cup, of eggnog contains 224 calories, 12 grams of protein, 7 grams of saturated fat and 20 grams of added sugar. Saturated fat is typically found in animal products, and excessive amounts can increase your risk of heart disease and high cholesterol. On average, adults should consume less than 20 grams of saturated fat every day. Additionally, one serving of eggnog contains 5 teaspoons of sugar. Eating too much sugar can lead to diabetes and elevated triglycerides.
Healthy Eggnog
You can make healthier eggnog by using low-fat milk instead of whole milk and cream. Also, you can reduce the added sugar or consider using artificial sweeteners. Remember that the American Heart Association recommends men drink 3 ounces or less of liquor per day and women drink 1.5 ounces or less. Be frugal with the amount of alcohol you add to your eggnog.