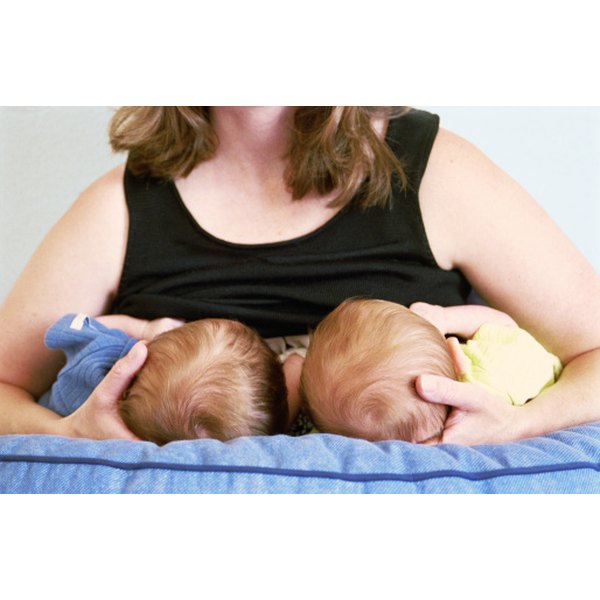 Breastfeeding mothers generally need an additional 500 calories in their diet per baby to maintain healthy lactation. These calories can come from a variety of high quality nutritious foods.
Significance
The caloric needs of a lactating woman vary. The daily calorie intake of a breastfeeding mother should be at least 1,800 calories in total, according to the USDA MyPyramid website. Most women do not need to track their calories unless there is an issue of unhealthy weight.
Quality and Variety
For a lactating mother the extra 500 calories per breastfeeding baby should come from whole grains, lean protein, and a variety of fruits and vegetables. The USDA MyPyramid website has a free meal planner for women who breastfeed.
Weight Loss
If you're trying to lose weight while breastfeeding and you find you are losing weight too rapidly or feeling tired, you may need to increase your calorie consumption. According to Judith Lauwers and Anna Swisher, co-authors of "Counseling the Nursing Mother," a woman can safely lose a pound per week.
Hydration
You might try drinking a glass of water each time you breastfeed or feel thirsty. According to Kathy Charbonneau author of "Just Another 500 Calories: Nutrition for the Breastfeeding Woman," inadequate hydration can negatively impact your breast milk supply, but so can over-hydrating.
Considerations
If you feel hungry beyond meals, try small, healthy snacks such as carrot sticks and hummus or low-fat cheese and apples. Many women continue to take a prenatal multivitamin while breastfeeding. Seek the help of a lactation consultant if you have breastfeeding concerns.