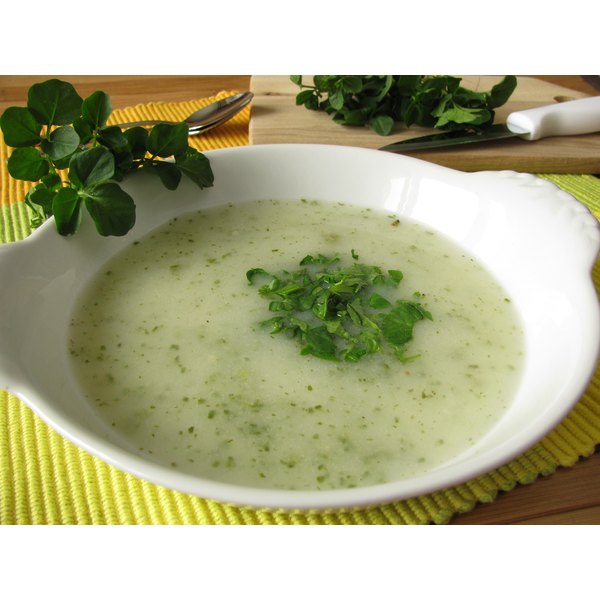 Watercress is a rich source of vitamins A, C and K as well as the compound your body uses to produce phenylethyl isothiocyanate, or PEITC, which may help prevent cancer. It may also help you lose weight, says Sarah Schenker, a nutritionist. This could be because watercress' high concentration of nutrients per calorie may help you feel satiated longer. Together with the Watercress Alliance, a group of British-based watercress growers, Schenker developed the Watercress Soup diet, an eating plan championed by celebrities like actress and model Elizabeth Hurley. The Watercress Soup Diet may not be a healthy weight loss program for everyone. Talk to your doctor before attempting the program.
Basic Guidelines
The Watercress Soup Diet is designed to provide an average of 1,000 to 1,200 calories daily, with no fewer than 800 calories on any day. Dieters have a high-carbohydrate breakfast, watercress soup for lunch and a high-protein dinner. Sample 300-calorie breakfasts and 400-calorie dinner plans are provided. The watercress soup, which contains chicken or vegetable stock, potatoes, onions and watercress, is 100 calories per serving. Schenker and the Watercress Alliance do not provide followers with full nutritional facts on the soup. You can have milk, fruit or suggested lunch options instead of the watercress soup as long as you stay under 1,200 calories per day and consume the soup at least four times weekly.
Scientific Research
Schenker and the Watercress Alliance led 11 volunteers on the Watercress Soup Diet and reported that the subjects lost an average of 17 pounds after six weeks following the plan. One volunteer was reported to have lost 49 pounds and reduced his total body fat by almost 10 percent. While there are objective scientific studies detailing the possible link between watercress consumption and cancer prevention, no studies have tested the weight loss claims of the Watercress Soup Diet proponents, or that prove the plan is any better than other low-calorie diets.
Possible Advantages
If the Watercress Soup diet plan supplies you with fewer daily calories than you were consuming prior to starting the program, you will lose weight. In addition, a study published in the "British Journal of Nutrition" in 2014 concluded that the more soup a person consumes, the less likely she is to be overweight. The high intake of watercress will increase your body's concentration of cancer-fighting antioxidants and may improve skin tone and wrinkles. The diet's suggested meal plans contain plenty of whole grains and a variety of fruits, vegetables and lean proteins like fish, poultry and beans.
Potential Disadvantages
Although Schenker claims that the Watercress Soup Diet supplies an adequate amount of all essential nutrients, other dietary experts disagree. University of California at Davis nutritionist Liz Applegate says women should not consume less than 1,200 calories per day, while men should have a minimum of 1,800 calories. Fewer than 1,000 calories daily may increase your risk of heart problems and gallstones. The American Academy of Dietetics adds that diets such as the Watercress Soup Diet, which tout the weight-loss powers of specific foods, have highly restrictive rules and that don't encourage exercise as a weight-management aid are plans best avoided in favor of a balanced diet you can sustain long term.