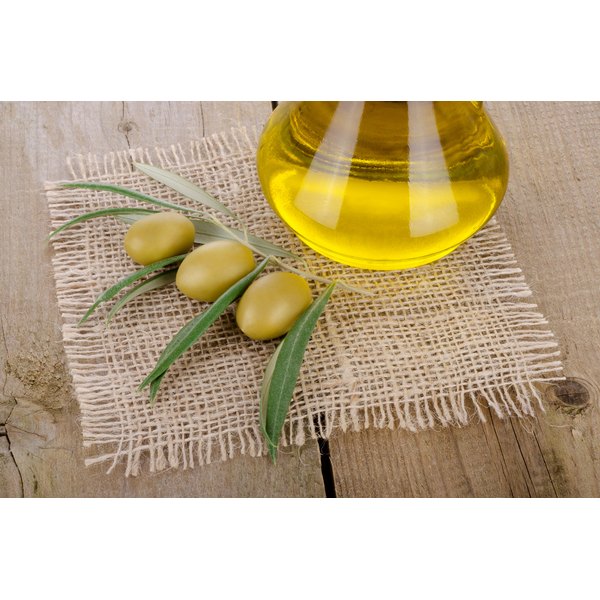 Kirkland Pure Olive Oil is a Costco house brand, and Kirkland oils have received positive reviews by LA Weekly. LA Weekly praised Kirkland oils for being "big and grassy," meaning strong-flavored, with an aroma reminiscent of a freshly mowed lawn in springtime--two characteristics that professional olive oil tasters prize. LA Weekly says Kirkland oils are less expensive than other brands.
Tip
Kirkland Pure Olive Oil has 161 Calories and 23.21 g of Protein per 100 gram serving according to the nutrition facts provided by the USDA Food Composition Database.
Standards for Pure Olive Oil
Some countries require that olive oil products labeled "extra virgin olive oil" meet certain standards related to acid content, but the United States does not have those standards, according to the May 2006 issue of Cooks Illustrated magazine. However, the magazine reports that in the U.S. the products labeled "olive oil," including "pure olive oil," are required to contain only oil from olives and may not contain oils from any other botanical sources.
Calories and Fat
Kirkland Pure Olive Oil contains 125 calories per tablespoon, according to the Fat Secret nutrition information database. Kirkland Pure Olive Oil, like all olive oils, is 100 percent fat, so it should come as no surprise that a tablespoon of olive oil contains 14 g of fat. However, be aware that only 2 g of that fat is the unhealthy saturated kind.
Benefits of Olive Oil
Olive oil is one of the best fats for your heart. According to the Mayo Clinic, olive oil contains antioxidants, which lower dangerous LDL cholesterol without affecting healthy HDL cholesterol. This, reports the clinic, helps protect you from heart disease. Also, because "pure" olive oils tend to be less expensive than "extra virgin" olive oils, you can stock up without busting your budget.
Considerations
Kirkland Pure Olive Oil is high in fat and calories, so you should use it to replace other fats in your diet, rather than simply adding it to the foods you normally eat, according to the Mayo Clinic. For example, you can cook eggs or saute soup vegetables in oil instead of butter or soak garlic and herbs in olive oil to create a flavored oil to use on toast or french fries. You can also use small amounts, mixed with vinegar or mustard, as a dressing for a salad of crisp greens.
Availability
If there is no Costco store near you, or you simply don't want to join a discount warehouse to buy a single product, Kirkland Pure Olive Oil is also available for purchase through the Internet.