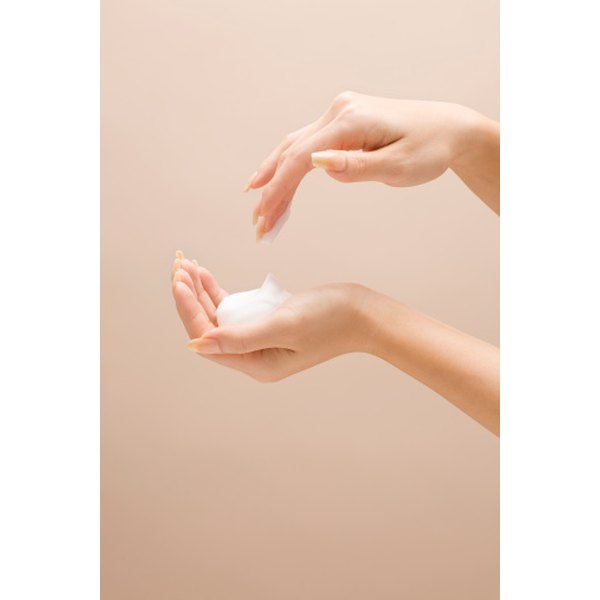 Each year patients in United States' hospitals acquire more than 1 million infections while in the hospital for something else, according to a June 2008 podcast released by the Centers for Disease Control and Prevention. Hand sanitation helps prevent the spread of infection. The hand-washing technique used to sanitize the hands plays a role in the number of bacteria passed from one person to the next in a hospital.
When To Sanitize
Regardless of the setting, hand sanitizing should occur after using the bathroom, before and after food preparation, after coughing or blowing your nose and any time you see dirt on them. In the hospital, hand sanitizing needs to occur before touching a patient, after exposure to body fluids, before any procedure, after touching a patients and after touching anything in a patients surroundings, according to World Health Organization.
Soap And Water Technique
The Guideline for Hand Hygiene in Health Care Settings published by the CDC in October 2005 advises the use of soap and water on hands soiled with visible dirt or contaminant. Soap mixes better with dirt and soil on the surface of the skin to clean them more thoroughly. Proper hand-washing technique requires you to wet your hands, apply soap, scrub all surfaces of your hands and wrists for at least 20 seconds, rinse your hands with warm water and turn off the faucet using a towel.
Hand Sanitizer Technique
Use alcohol-based hand sanitizer when hands are not visibly soiled, advises the CDC in the October 2005 report. Alcohol hand sanitizers work by stripping off the outer layer of oil from your hands to destroy any microorganisms present. The University of Florida advises placing a dime-sized portion of alcohol hand sanitizer on your hands and rubbing it in for 30 seconds. If your hands dry before the 30-second mark, apply more sanitizer.
Effectiveness
Hand washing and hand sanitizers work effectively well at reducing infection rates and microbial counts on the hands of nurses, according to a study published in the April 2005 edition of "Archives of Pediatrics & Adolescent Medicine." Factors such as patient risk, unit design and adherence to hand-washing guidelines play a role in the results of any study that looks at the effectiveness of hand-sanitizing techniques in the hospital.
Adherence
Adherence to hand-hygiene techniques pays a large role in the effectiveness of hand washing verses hand sanitizers. A May 2010 podcast presented by the CDC shows that hand hygiene adherence among health care workers in America is less than 50 percent. Common reasons for not adhering to hygiene guidelines include hand-washing agents cause irritation and dryness, sinks are not located conveniently, not enough time, lack of soap or paper towels and the use of gloves, according to Dr. Didier Pittet in a June 2000 article published in "Infection Control and Hospital Epidemiology." The CDC states that plain soap and water helps reduce bacterial counts, but antimicrobial soap and water is better. Alcohol-based hand sanitizers eliminate many of the barriers to hand hygiene, improving both adherence and effectiveness.