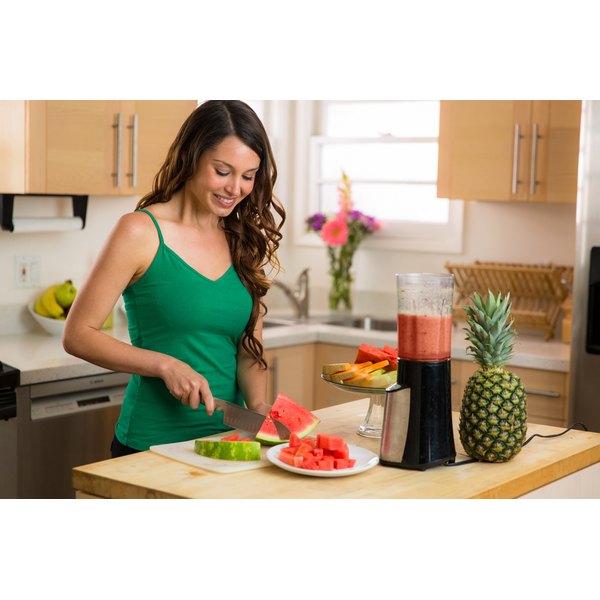 One of the biggest areas people fall down on when it comes to a weight-loss diet is finding a plan that's easy to stick to. Having to spend hours preparing meals or eating tasteless, bland food is a surefire way to set yourself up for failure. Quick, convenient, tasty snacks make dieting a whole lot easier, though. One way you can aid with this is to add protein smoothies into your plan.
Picking Your Protein
The first step in making your smoothie is to pick your protein powder. Registered dietitian Molly Kimball recommends picking whey protein if you want a fast-digesting protein or casein protein if you're making a smoothie before bed or want something to tide you over a little longer. These are both made from milk protein, so if you're following a plant-based diet, pick soy, hemp, rice or pea protein instead.
The Add-Ins
Using just protein powder would make this a shake, not a smoothie. Adding more ingredients also means your smoothie will be far more filling. Fruits and vegetables are your best choice here, as most are low in calories and high in fiber. On the Built Lean website, several trainers, coaches and nutritionists offer their suggestions for the tastiest add-ins. Personal trainer Kristin Rooke recommends banana, spinach and flax seed. Stephen Bergeron likes spinach, kale, frozen berries, banana, chia seeds and cacao nibs, while Marc Perry keeps it simple with strawberry and banana, and Kevin Deeth opts for just blueberries and banana. Experiment with different types of fruits, vegetables and nuts to see what combos you like best, but be sure to track the calories -- going overboard with your add-ins can make your smoothie not so weight-loss friendly.
Choosing the Liquid
While you can make your smoothie with water, this can leave it a little runny. You may prefer a thicker shake so it feels like more of a meal. Nutrition expert and writer Harley Pasternak suggests using 1 percent or nonfat milk or going instead for a nondairy milk. If you're adding nuts to your smoothie, you may prefer almond or hazelnut milk. Decide what type of liquid you want to use based on how many calories you want the shake to have. Water is the best choice if you're looking to go lower or have already used some higher-calorie ingredients.
Why They Work
Provided you don't go overboard with added nuts and seeds, a protein smoothie blended with vegetables and fruits is a low-calorie, yet filling drink. This is due to the protein content of the powder and the fiber in the vegetables and fruit. If you prefer not to use protein powder in your smoothie, you can still make your smoothie a little higher in protein than a regular smoothie by using Greek yogurt or cottage cheese. Make sure your smoothie fits in with your daily plan by monitoring the calorie content, ingredients and serving size to help you stay on track with your required calorie intake.