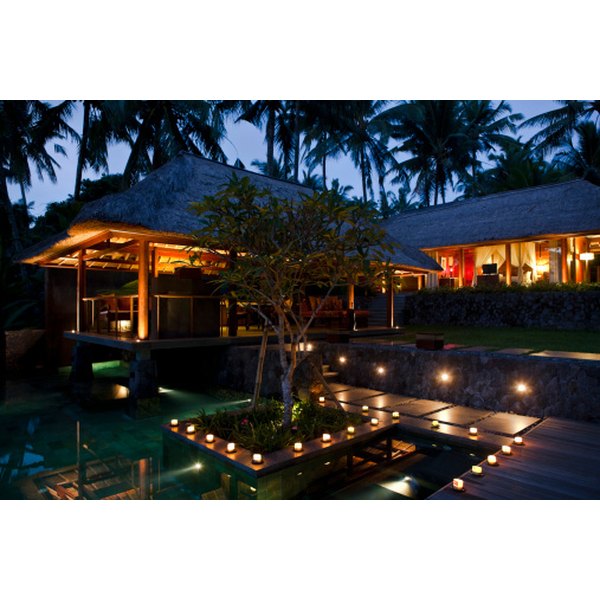 Outdoor solar path lights contain tiny photovoltaic cells. During the day these cells absorb the sun's light and convert it to energy. Rechargeable batteries fitted inside the lights store this energy and provide it for later use at night. Light emitting diode, or LED bulbs –- which last 10 times longer than incandescents –- offer illumination and require very little output of power. Solar path lights are often embedded in the ground on either side of a dark path, or they can be hung from a pole to light a walkway. Solar path lights don't need wiring, so they can easily be relocated.
Solar Candle Pathmarkers
Solar-powered LEDs housed inside frosted-glass votives flicker to emulate natural candlelight. The solar pathmarkers, retailed by Gaiam, were designed to function as easy-to-install garden stakes. Powered by a miniature solar cell via a rechargeable AA battery – included – the solar candle pathmarkers require no wiring and have an auto-on sensor that provides dependable illumination without the need for an on-off switch.
Firefly Calla Lilly Glass Solar Garden Light Package
If you're looking for something a little more high-end for the garden or backyard, consider Snappdragon's Firefly Calla Lilly. The package includes a hand-blown ornamental glass top, solar panel, stainless steel stake, and AA rechargeable batteries, and takes less than five minutes to assemble. The self-contained rechargeable batteries gather power from the sun during the day to glow for up to eight hours at night. There's no wiring, no installation required, and the lights automatically shut themselves off at dawn.
Executive Stainless Steel Solar Path Light
This 24-inch stainless steel solar powered path light is available at Home Depot. It will not rust and shines for up to eight hours after being fully charged. It requires no plugs, no outlets, and no wiring, and can be easily driven into the ground using its ground stake – which is included. The internal photo-cell sensor automatically turns the light on when night falls.