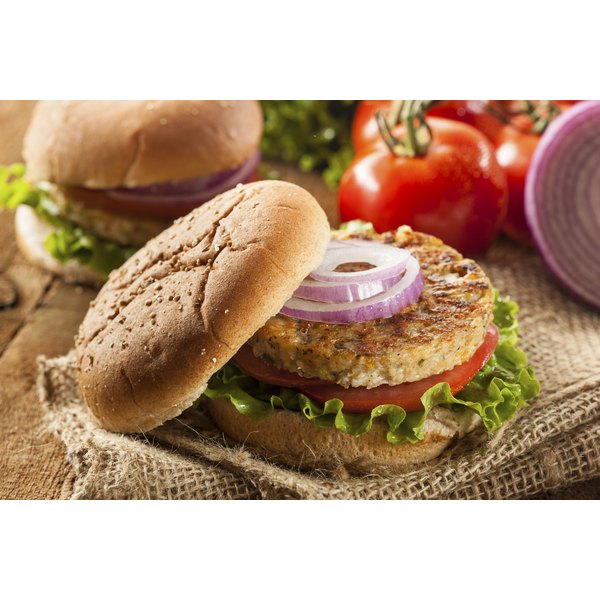 As nutrition experts continue to find reasons to avoid saturated fat and red meat, more people are moving to meat alternatives, and many companies are developing products to meet the demands as the trend away from meat extends to non-vegetarians. These products, like Kellogg's Morningstar Farms Veggie Pattie Burgers, are often foods resembling meat. The question is whether they make the grade when it comes to nutrition.
Tip
Morning Star Veggie Burger has 164 Calories and 14.93 g of Protein per 100 gram serving according to the nutrition facts provided by the USDA Food Composition Database.
Serving Size and Calories
Each 67 g Garden Veggie Pattie is an individual serving and contains 110 calories. Each serving is worth one lean meat and two vegetable exchanges, important information for people following the American Dietetic and American Diabetes Associations' dietary exchange system.
Protein
Each burger contains 10 g of protein, providing 19 percent of the daily value for a 2,000-calorie diet. This is equal to the total protein provided by 1 oz. of ground round beef. The protein in the veggie patty is primarily from textured vegetable protein, a product made from soybeans and wheat gluten.
Carbohydrates
The Garden Burger provides 9 g of carbohydrates and, unlike beef, also contains 3 g of fiber, or 12 percent of the daily value for a 2,000-calorie diet. A traditional burger can provide this amount of fiber, but only after adding the whole grain bun.
Fat
The veggie burger contains 3.5 g of total fat, a half-gram of which is saturated fat. A 3 oz. beef patty made from ground round contains about 13 g of total fat, 5 g of which are artery-clogging saturated fat.
Vitamins and Minerals
The Morningstar Farm Veggie Burger contains 350 mg of sodium, or 15 percent of the daily value. This could be an issue for those with salt-sensitive high blood pressure, since experts suggest avoiding foods with more than 200 mg of sodium per serving. One patty also provides 4 percent of the daily values for vitamin A, calcium and iron, and 5 percent of the potassium daily value.