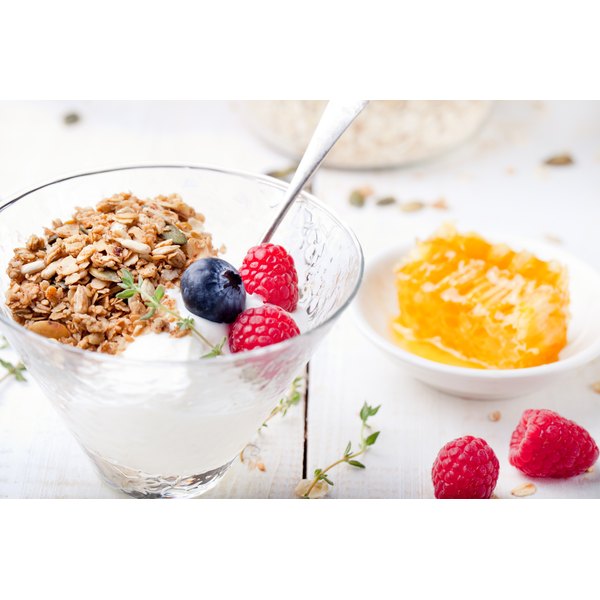 Whether you are a professional, amateur or even a weekend-only athlete, the food you consume is a major factor in how well you perform. For athletes at any level, food is fuel for the body, and consuming the right types and amounts at the right time is key. Eat healthy, wholesome foods and plan your meals and snacks well to fuel your performance.
Breakfast: The Most Important
Eating regular meals and healthy, energy-filled snacks will not only make you more conscious of what you eat, but will boost and maintain your metabolism according to registered dietician Suzanne Girard Eberle. She highly encourages that you make sure to eat breakfast — anything goes for this meal, from traditional breakfast foods to leftovers. The ultimate quick breakfast is a glass of juice and a glass of milk, but an example of a nutrition-packed breakfast is 1 cup oatmeal topped with 1 cup fat-free yogurt and 2 tbsp. raisins, two slices multi-grain bread with 1 tbsp. peanut butter and an 8 oz. glass of orange juice.
Lunch: A Priority
Eberle notes that you must make lunch a priority and that you can pack a quick, healthy lunch of dried soup or fruits and energy bars. You can even drink liquid meal replacement or instant breakfast drinks if you are in a real hurry. When you eat out, focus on eating carbohydrate-loaded, non-fat-filled meals such as pasta, rice or potato-based main entrees. A hearty, healthy lunch ensures plenty of energy for your workout or competition later in the day. An energy-packed lunch example is one lean hamburger on whole grain bun with tomato and onion, 1/2 cup pasta and bean salad and a handful of baby carrots dipped in yogurt salad dressing.
Dinner: Sit Down, Eat Well
Dinner is the time to recover and re-fuel for tomorrow's workout or event, so Eberle suggests that you sit down and not hurry through dinner. Remember, you are storing food as fuel for your hard-working muscles, and it's important not to skimp on calories during dinner. For an athlete, a good dinner menu is 1 cup black bean and meat chili over 1 cup Aztec rice and corn mix, dark green salad with 1 tbsp. low-fat salad dressing and 1 cup frozen yogurt with 1/2 cup fresh or frozen strawberries.
Eat the Right Balance
Even if you are a professional athlete, finding the time to eat the right healthy, energy-filled foods during your busy day can be easier said than done. If you do anything correctly, eat the right balance of carbohydrates, proteins, and fats. With the understanding that carbs are your muscle's main source of fuel, author Monique Ryan in "Sports Nutrition for Endurance Athletes" suggests a balance for your diet of 60 percent carbs, 25 percent fats and 15 percent proteins. These percentages represent everything your body will need for excellent sports nutrition.
Hydration
Staying well hydrated is critical for an athlete as well. Using distance running as an example, Pete Pfitzinger notes in his article "Eat, Drink, and Finish Strong" that for each 1 percent loss of body weight lost via sweating, you slow down 2 percent. In other words, become dehydrated, and your performance decreases. Eberle suggests eight servings of water per day as the foundation of a good sports diet. Runner or not, no matter your sport, drink freely of water and/or electrolyte-loaded sport drinks.