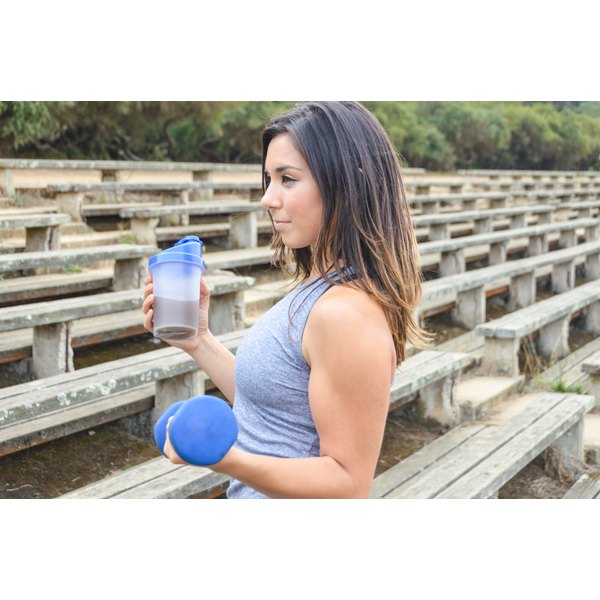 Resource Beneprotein is an instant protein powder produced by Nestle. It is made out of whey protein isolate and soy lecithin. The serving size for one scoop or packet is 7 g. This product is formulated so that it may be used in feeding tubes. It also can be mixed with a variety of foods and beverages to increase protein content.
Tip
One serving of Beneprotein is reported to have 25 Calories, according to the nutrition facts provided by livestrong.com.
Protein and Calories
A serving of Beneprotein provides 6 g of protein. The U.S. Department of Agriculture recommends you take in 46 g protein daily if you are a woman and 56 g of protein daily if you are a man. A 7-g scoop has 25 calories. If you consume a 100 g portion, you take in 357 calories.
Potassium and Phosphorous
You get 35 mg of potassium and 15 mg of phosphorus in a scoop of Beneprotein. Women and men both need 4.7 g potassium daily as well as 700 mg phosphorus, according to the USDA.
Sodium
A serving of Beneprotein has 15 mg of sodium. Overall, you need to limit your sodium intake to 2,300 mg daily if you are healthy and to 1,500 mg a day if you have diabetes, high blood pressure or kidney disease, or if you are middle-aged or older, according to MayoClinic.com.
Calcium
You get 30 mg of calcium per serving of Beneprotein. Men and women ages 19 to 50 need 1,000 mg of calcium daily. This goes up to 1,200 mg a day after age 50, according to the USDA.
Considerations
Beneprotein is kosher as well as both gluten-free and lactose-free, according to product information. However, if you have a milk allergy beware -- whey is one of the two main proteins contained in milk. A milk allergy is not the same thing as lactose intolerance, notes KidsHealth.org.