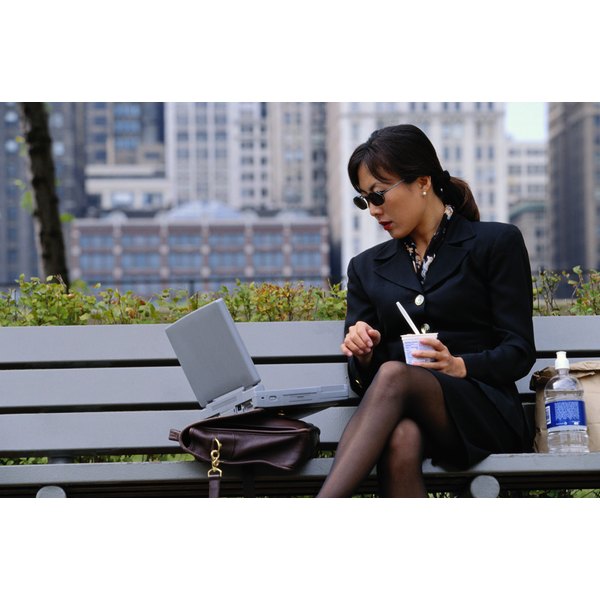 Yogurt, a fermented milk food with a unique custard-like texture, can fit into your weight-loss plan as long as you read nutrition facts labels carefully to make sure the brand you choose fits into your diet. If you're hankering for an afternoon snack to tide you over until the dinner hour, MayoClinic.com suggests yogurt as one of many low-calorie options.
Yogurt and the Food Pyramid
Yogurt falls under the milk group in the U.S. Department of Agriculture's Food Pyramid. Yogurt and other milk products contain vital nutrients, such as calcium, which encourages healthy bones and teeth and reduces your risk of osteoporosis later in life. But vitamin D, potassium and protein are also valuable nutrients found in yogurt. According to the USDA, if your diet includes milk and other dairy foods, it's likely to be of better quality from a nutritional standpoint, regardless if you're dieting or not.
Choosing Wisely
MayoClinic.com and the USDA suggest that you choose low-fat or fat-free yogurt. Some brands may have sugar added to the mix, so look for "low calorie" or "light" on the product label. There's a secondary reason for choosing low-fat and fat-free dairy products: Whole-milk foods are higher in saturated fats and cholesterol, which can increase your low-density lipoprotein (LDL) or "bad" cholesterol levels.
Yogurt Selection
Dannon's Light & Fit flavored yogurt contains 80 calories and no fat for every 6-oz. serving. According to the American Dietetic Association, the lactose in milk adds some natural sugars to yogurt, around 12 g per 6-oz. serving. Added fruit and sweeteners can increase the sugar content to 26 g per serving. Yogurts that use low-calorie sweeteners, on the other hand, reduce the total sugar content to between 12 and 14 g per serving. A 6-oz. container of Dannon All Natural plain non-fat yogurt contains 80 calories and no fat at all. Add 1/4 cup of blueberries for around 20 calories or a quarter of a medium banana, sliced, for around 25 calories, and you can sweeten plain yogurt naturally. These selections fall within MayoClinic.com's guidelines for choosing a snack that's around 100 calories.
Other Tips
The USDA suggests other ways to get creative with fat-free or low-fat yogurt. Use plain yogurt as a tart dipping sauce for vegetables and other fruits, or toss it in the blender with your favorite fruit to make a drinkable smoothie. Select low-fat or fat-free yogurt as a topper for your baked potato rather than sour cream. MayoClinic.com suggests a small baked potato topped with 2 tablespoons fat-free plain yogurt as an "on the go" snack – around 200 calories – whenever you're pressed for time or miss a meal.
Other Snack Suggestions
Low-fat or non-fat yogurt is a heart-healthy, low-calorie, low-fat snack option. Other foods that can sate your palate include fresh fruits and vegetables and low-fat, whole-grain pretzels, crackers and crispbreads. Nuts and seeds contain healthy monounsaturated fat and are a good source of protein, which keeps you feeling fuller longer, but they're also higher in calories, so go easy on the portion size.