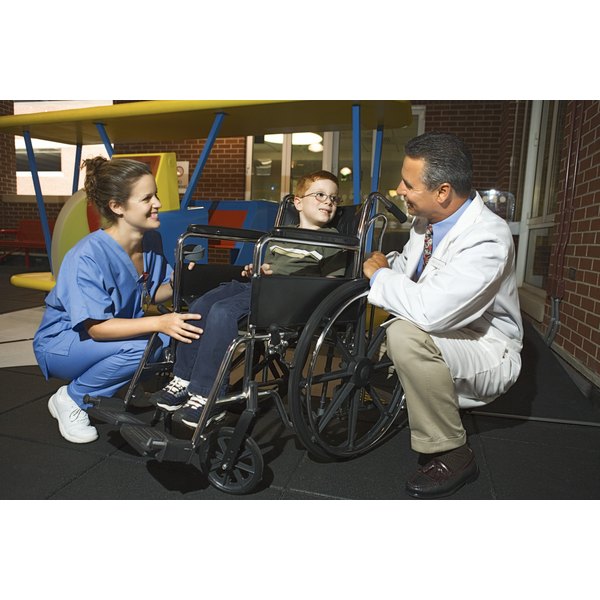 Brain injuries and birth defects that cause both intellectual and physical disabilities occur for a wide variety of reasons. According to The Institutes for the Achievement of Human Potential, brain injuries can occur during pregnancy or during a difficult delivery. Babies who are born prematurely often develop physical and intellectual disabilities, while accidents and disease can also cause intellectual and physical challenges in kids. As a result, children living with physical and intellectual challenges need extra help navigating the world.
Watch your baby's development closely for the first few years to assess developmental delays. You know your child better than the pediatrician, so if you suspect delays, be the child's advocate so you can provide early treatment or intervention if needed. According to the National Center for Infants, Toddlers, and Families, parents should push for a diagnosis if they suspect problems and not be afraid to disagree with medical professionals.

Demand the appropriate medical, psychological and social treatment your child needs. You can best help your child by making sure he gets the proper treatment and your family receives the appropriate services and assistance to deal with the situation. Make sure your child receives the most helpful treatment available.

Inform your other children and family members about the details of your child's condition. Provide them with informative pamphlets and books about the disorder. According to Psych Central, arming children with the facts will help them accept a disabled sibling more easily, and help them find creative ways to bond with her.

Teach your disabled child in small increments. According to the California Childcare Health Program, kids with intellectual and physical disabilities are capable of learning, but usually require more time than other children. Be very clear in your directions. Provide praise for every accomplishment and give them the necessary tools to succeed.

Arrange your home and your child's play area to make it easier for him to navigate. Remove any furniture that might make him fall, and set up a space where he can move freely without fear of accidents or injury.

Tip

Set up a schedule that provides your child enough time to complete projects and participate in ongoing treatment plans. Make enough time in your schedule to take care of your own needs and for your child to complete everyday tasks, such as eating, bathing and dressing, which could take longer than it does for your other kids. This will reduce stress on yourself and your child.

Warnings

According to the American Academy of Child and Adolescent Psychiatry, children with intellectual disabilities can present behavioral challenges for parents and caregivers. Make sure your child is in contact with a psychiatrist who can prescribe necessary medications to alleviate extreme behaviors that could be harmful to your child.