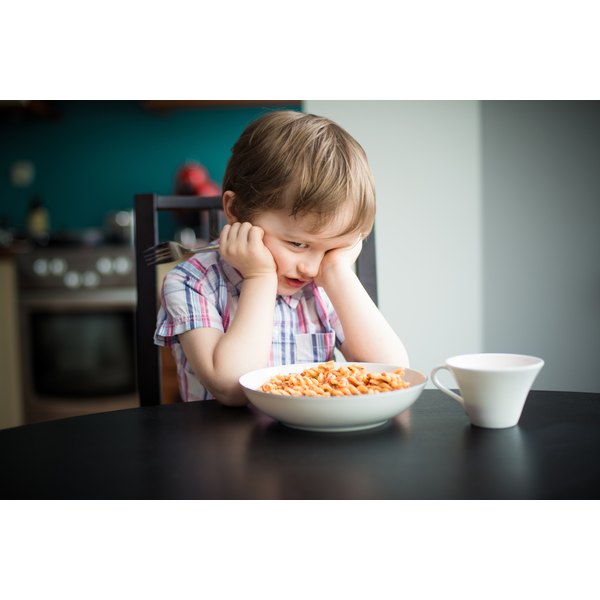 When your child was a baby, breast milk and formula were all she needed to be well-fed and happy. Once she reaches the toddler years of 24 months and beyond, though, it's time for a variety of solid foods to make up her diet. At the dinner table, focus on giving your toddler healthy foods that Mom and Dad enjoy, too -- in the appropriate serving sizes.
The Right Size
Your child doesn't need as much food as you do, so the serving sizes should be appropriate for his smaller body. The American Academy of Pediatrics says an appropriate dinner looks something like this: 2 ounces of meat or protein – about the size of your child's palm; 2 tablespoons of vegetables; 1/3 cup of starch such as pasta, rice or potato; 2 teaspoons of salad dressing or 1 teaspoon of butter; and a half-cup of 2 percent milk. Start with smaller portions, particularly when offering a new food to your toddler, as small quantities are less overwhelming and don't encourage overeating.
Making Easy Meals
Preparing healthy dinners that both toddler and parent enjoy can be a struggle. With just a few healthy swaps to kid-friendly food and by involving your child, you can potentially avoid a struggle at the dinner table. Children enjoy finger foods, but frozen fish sticks don't need to take their place at the table – instead, use whole-wheat bread crumbs to bread lean chicken tenders and bake them for a finger food the whole family can enjoy. For a chilly night, invest in whole-wheat alphabet pasta to make chicken noodle soup; ask her to pick out the letters in her name if you've begun working on learning the alphabet. Your child can also get involved in prepping meals through safe activities, such as placing toppings on a pizza made with whole-wheat crust or helping to rinse beans in a colander for quesadillas made with low-fat cheese and whole-wheat tortillas.
Fast and Family-Friendly
Busy parents might find it challenging to take the time to prepare a nutritious meal that pleases their toddler. If you need to whip something up quickly, take a couple of shortcuts without sacrificing health or flavor. For example, instead of mixing together a whole-wheat pizza crust from scratch, create mini pizzas on whole-wheat bagels, topped with low-fat cheese and chopped chicken breasts. Toddlers might also like a special breakfast-for-dinner meal with easy scrambled eggs, chopped fruit and turkey bacon, which can be microwaved if you're really in a time crunch. Prepare healthy meals that your toddler loves in advance -- soups, pasta or extras such as veggie-laden spaghetti sauce can be easily frozen and defrosted the night before. Skip the soda or lemonade in favor of serving milk at dinner for your toddler. Your child needs 700 milligrams of calcium and 600 international units of vitamin D each day, both of which milk supplies. The AAP recommends at least 16 ounces of milk a day. After age 2, your child should consume low-fat or nonfat milk – before this age, he needs whole milk for the dietary fat – but you should speak to your doctor to determine which type of milk is best for your toddler. If he can't drink milk, serve plenty of other products such as calcium-fortified soy beverages or juice, fortified cereals and dark green vegetables.
Dealing With Picky Eaters
As your toddler begins to express her independence – and learns the word "no" – you might find yourself battling at the dinner table. According to KidsHealth, the key is to continue to serve the foods that your child turns down the first time, such as new vegetables, and set a good example by eating plenty of healthy foods yourself.