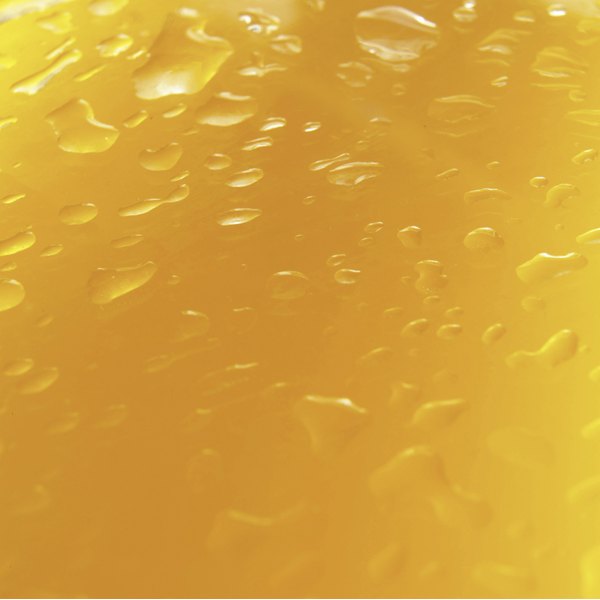 The name 'Fruitopia' conjures up images of a juice drink packed with antioxidants and body-benefiting vitamins, but this drink, marketed by Coca-Cola as a fruit beverage, doesn't provide much in the way of nutritional value. One serving is a good source of Vitamin C, but is otherwise no more nutritious than Kool-Aid or other sugar drink options.
Ingredients
In one bottle or 473 ml serving of Fruitopia -- the blueberry watermelon wisdom flavor for this example -- you will find filtered water; sugar glucose/fructose; fruit juices from concentrate -- grape, apple, blueberry and watermelon; citric acid to control tartness; cochineal extract for color; natural flavor and grape skin extract.
Nutritional Value
One bottle of Fruitopia contains 120 calories, the equivalent of 15 Cheezies or half of a Caramilk chocolate bar. Most of the calories come from sugar -- 32 g in total or the equivalent of 8 tsp. The drink contains no fats -- saturated, trans or otherwise, but contains 20 mg of sodium or 1 percent of your daily recommended intake. There are 10 g of potassium, but not enough to contribute towards your daily recommended intake. The product contains 0.1 g of protein and no vitamin A. It does however provide you with 100 percent of your daily vitamin C. There is no calcium, iron, caffeine or aspartame in Fruitopia.
Flavors
Fruitopia comes in a variety of flavors, including blueberry watermelon wisdom, fruit integration, pomegranate tangerine, raspberry kiwi karma and strawberry passion awareness.
Allergy Warnings
Fruitopia contains no milk products, wheat or gluten. For specific fruit allergies, check the ingredient list of each flavor to find out which drinks contain which fruit products.
Storage
Fruitopia can be stored on shelves in stores as it is airtight and will not go bad before the seal has been broken, but it should be refrigerated once opened and consumed fairly soon after opening to prevent spoilage.