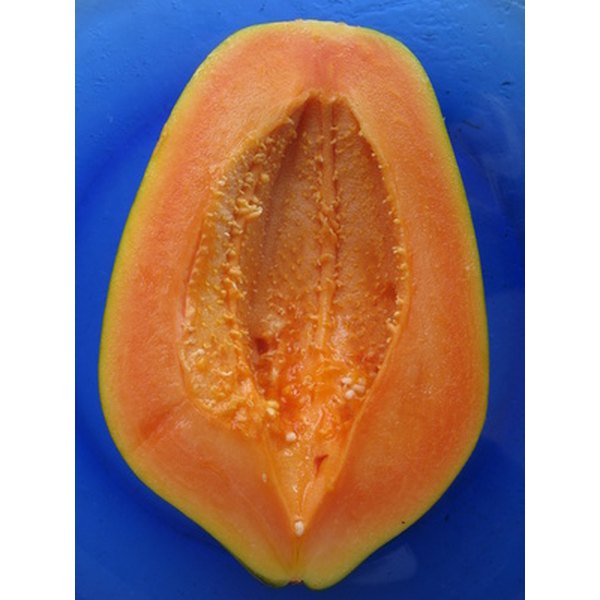 Chemical peels are not a new idea. In fact, chemical peels existed as early as the 1940s, according to the University of Texas Medical Branch at Galveston. Chemical peels wound the skin and encourage new collagen growth, which in turn helps smooth the skin. Homemade body chemical peels offer a natural way to resurface the top layer of skin without the hefty price tag of a spa peel. While the use of fruit acids will not yield you a deep chemical peel, it can offer a superficial result, such as evening out your skin tone or smoothing out fine lines and minor skin flaws.
Defrost one bag of frozen papaya and a bag of frozen pineapple. Using frozen fruit for your chemical peels will save you the time and trouble of having to purchase and cut up fresh fruit.

Pour 1 cup of pineapple into a blender. Add 1/2 cup of papaya and 2 tbsp. of honey to the pineapple.

Blend the chemical peel ingredients until smooth. Pour the homemade body chemical peel into a plastic container with secure lid.

Cleanse your skin with a mild body wash. Rinse away the body wash with a cool water rinse and pat your skin dry with a clean towel.

Apply the chemical peel to your skin using your fingertips. Rinse your fingertips immediately afterward, removing the chemical peel.

Allow the chemical peel to remain on your skin for five minutes. Rinse the peel away with cool water after the five-minute waiting period. Repeat the process once a week until your achieve your desired results.

Tip

Fruit acids affect people in different ways. While one person may have no problem applying the acid to his skin, another may experience severe irritation. For this reason, it is a good idea to do a patch test. Apply the chemical peel to a small area and wait 24 hours to see if you have a reaction.

Warnings

If at any time the chemical peel causes severe pain, burning or discomfort, rinse it immediately from the skin using cool water. If burning persists, seek medical attention.