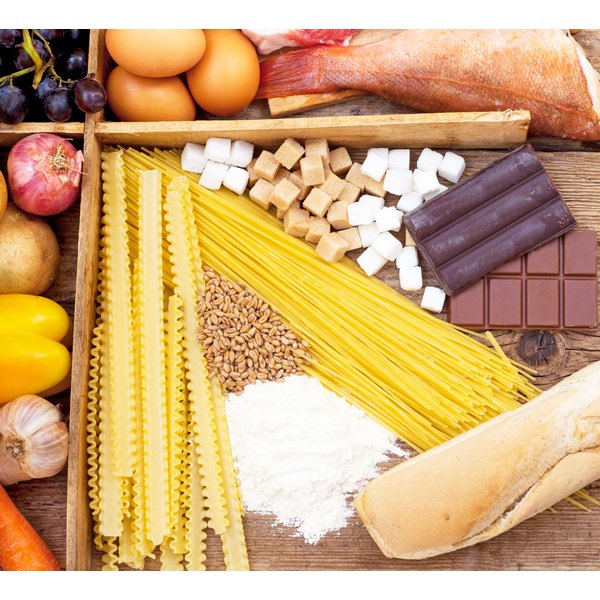 It's becoming much more common to hear people saying they're following a sugar- and wheat-free diet. Celebrities such as Oprah Winfrey have endorsed wheat-free and gluten-free diets as a way to lose weight and many people also are cutting back on foods containing added sugar, which the American Academy of Family Physicians is urging people to limit. Fortunately, you still have many food choices if you're following a sugar- and wheat-free diet.
Causes
If you're avoiding wheat for medical reasons, you may have been diagnosed with celiac disease, a condition which renders you unable to properly digest wheat, barley and rye, according to the National Institute of Diabetes and Digestive and Kidney Diseases. Or, you might suffer from an allergy to wheat. If you're avoiding sugar, you may have been diagnosed with diabetes, which limits your body's ability to process sugar. In many cases, though, people choose to follow a sugar-free and wheat-free diet simply because they believe it's better for their health.
Features
In order to follow a sugar-free and wheat-free diet, first you need to identify which foods contain wheat and sugar. Fortunately, food labels make that a relatively easy task, according to the University of Vermont. Since the U.S. Food and Drug Administration has pinpointed wheat as a major allergen, all wheat-containing foods must be labeled. So, to avoid wheat in processed foods, you'll just need to check labels.
Sugar might pose a slightly larger problem, since sugar ingredients can appear on food labels under many names. However, food labels list total sugar under their calories and nutrition section, so you should avoid foods that list any grams of sugar in that section.
Types
You'll likely be choosing most of your wheat- and sugar-free foods from the fresh produce and meats section of your supermarket, since the vast majority of processed foods will contain one or both of those ingredients. Fresh meats should be completely sugar-free and wheat-free, as will fresh poultry and fish, according to the University of Vermont. Just be careful not to choose products that contain a sauce or other marinade, as those can contain both ingredients. Fresh vegetables, such as greens, broccoli, cauliflower, spinach and celery, also contain no wheat and no sugar.
Considerations
You'll have difficulty finding commercially prepared baked goods that include no wheat and no sugar, but that doesn't mean you'll need to go without. It's possible to bake your own bread, cakes and cookies using wheat-free specialty flours including such grains as sorghum, corn or oat. If you want some sort of sweetener in your cookies or cakes, choose a sugar-free alternative.
Misconceptions
Following a sugar- and wheat-free diet can be challenging and will place many foods, including all fresh fruits and many starchy fresh vegetables, off-limits. According to the Joslin Diabetes Center, even diabetics don't need to eliminate all sources of sugar from their diets. Also, "sugar-free" foods with added artificial sweeteners contain sugar alcohols, which are high in carbohydrates. You may want to consider working with a nutritionist to determine whether you can consume naturally occurring sugars in fruits and vegetables as part of your sugar- and wheat-free diet.